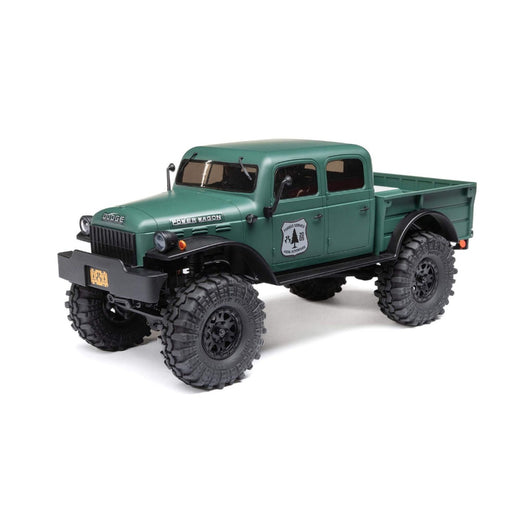 AXIAL 1/24 SCX24 DODGE POWER WAGON 4WD ROCK CRAWLER BRUSHED RTR, GREEN
FEATURES
Fully equipped and ready-to-run
Assembled SCX24 chassis, drivetrain, and suspension
Detailed Power Wagon 4-door molded ABS hard body
Pro-Line Interco Super Swamper tires
Pro-Line Impulse Bead-Loc wheels
Oil-filled shocks
Overlanding rack and accessories
Spektrum SLT2 2.4GHz radio system
88-Turn brushed motor
Spektrum 350mAh LiPo battery and USB charger
OVERVIEW
The innovative Dodge Power Wagon played a pivotal role in building America. Mass-produced rear wheel drive vehicles before WWII were less than ideal for demanding farm and construction work. During the war, battlefield soldiers used the 4x4 Power Wagon to move supplies and wounded troops. They discovered how valuable these trucks were and created demand that Dodge began meeting with civilian models in the mid-1940s.
The Axial SCX24 1940s Dodge Power Wagon offers a unique take on this off-road classic, as a custom 4-door RC crawler built on the proven, go-anywhere SCX24 platform. It's an essential addition to any Axial fan's collection of SCX24 rigs, and the perfect choice for everyone who wants performance and value in an RC crawler.
If you're a full-size classic auto enthusiast who's new to RC, you too will be thrilled by this rig's 1/24 scale accuracy and ready-to-run simplicity. Fully assembled and fully equipped, the Power Wagon tops off its muscular chassis with a molded ABS hard body in a custom 4-door design that's loaded with detail. An overlanding rack and accessories, included for optional installation, add to the realism. It looks ready to take on the wilderness — and it is!
The SCX24 Power Wagon has been engineered for unstoppable RC crawling whether indoors at home or outdoors on the trails. Axial improved the already proven SCX24 platform with several significant performance upgrades. Oil-filled shocks create a suspension system that smoothly absorbs bumps and remains stable over the roughest terrain. Pro-Line Interco Super Swamper tires on Pro-Line Impulse Bead-Loc wheels add the grip and clearance to conquer any challenge in your chosen line.
Everything you'll need is included in the box — a Spektrum SLT2 2.4GHz radio, Spektrum 350mAh 2S 30C 7.4V LiPo battery, handy Spektrum USB LiPo charger, and even four AA batteries for the transmitter. The value and performance make the SCX24 1940s Dodge Power Wagon an ideal RC rock crawler for anyone who's eager to hit the trails with a classic American truck.
OFFICIALLY LICENSED 1940S DODGE POWER WAGON HARD BODY
The Power Wagon offers the high level of scale detail possible only with a molded ABS hard body. You can add to its realism by installing the included overlanding rack and accessories.
OFFICIALLY LICENSED INTERCO SUPER SWAMPER PRO-LINE TIRES & IMPULSE BEAD-LOC WHEELS
Included Pro-Line Super Swamper high performance tires mounted on easy-to-use, 3-piece Pro-Line Impulse beadlock wheels provide scale looks and superior traction.
OIL-FILLED SHOCKS
Oil-filled shocks allow the suspension to articulate smoothly over rough terrain. You can adjust the preload to fine-tune your rig for your handling needs.
SPEKTRUM SLT2 2.4GHZ RADIO SYSTEM
The Spektrum SLT2 2-channel radio system offers high-end features such as throttle/steering travel adjust and throttle limiting. The RTR package is so complete, even AA transmitter batteries are included.
STEEL C-CHANNEL CHASSIS FRAME RAILS
Just like the 1/10 scale SCX10 platform, the SCX24 chassis features rugged and sturdy steel C-channel frame rails with bracing to keep everything intact and aligned.
DYNAMITE BRUSHED MOTOR
The included Dynamite 88T brushed electric motor provides the right amount of torque for making steep climbs. It's mated to a steel motor mount to keep flex to a minimum and help protect the gears.
WORM GEARS
The front and rear differentials each house a worm screw and worm gear setup to get the power to the axles and create higher ground clearance.
FRONT AND REAR SOLID AXLE HOUSINGS
The front and rear axles consist of a two piece, molded composite solid axle design. For optimal handling, the SCX24 suspension features a three-link front and four-link rear setup.
DURABLE STEEL AXLES
Steel front and rear axles, front stub axles and steel dogbones provide strength and durability needed to keep running with confidence during tough climbs and over rough trails.
SPLINED DRIVE SHAFTS
The front and rear drive shafts are splined and sleeved to allow for maximum suspension travel while keeping the power to the wheels.
4-LINK REAR SUSPENSION
The rear suspension geometry uses a 4-link design which is optimized to reduce axle steer and torque twist.
FULL BALL BEARINGS
Just because the SCX24 is small doesn't mean its features follow suit. There are no bushings here — the drivetrain spins freely on sealed cartridge bearings throughout the entire vehicle.
PRODUCT SPECS
Ball Bearings: Complete Vehicle
Chassis: Stamped Steel Chassis Rails
Completion Level: Ready-To-Run
Drivetrain: 4WD
Drive Type: Forward/Brake/Reverse
Product Height: 4.2" (107 mm)
Product Width: 4.1" (104 mm)
Radio: Included
Spur Gear: 55T
Steering Type: 2WS
Suspension: Solid Axle, Front and Rear
Battery: Included
Connector Type: PH 2.0 (High-Current Ultra Micro)
Ground Clearance: 1.45 in (37mm)
Motor Size: 030
Product Length: 9.65" (245 mm)
Motor Type: Brushed
Speed Control: Included
Wheelbase: 6.1" (155 mm)
Body: Axial 1940's 4 Door Dodge Power Wagon
Brakes: Integral with ESC
Pinion: 10T
Scale: 1/24
Power Type: Electric
Servos: Included
Product Weight: 11.5 oz (325.5g)
Tire Tread: Pro-Line TSL Super Swamper
Vehicle Type: Rock Crawler
Water-Resistant: Yes
Charger: Included
Differential: Worm Gear 16T/4T
Receiver: Included
Shock Type: Coil-over .9-1.3 in (24-33.4mm), Composite