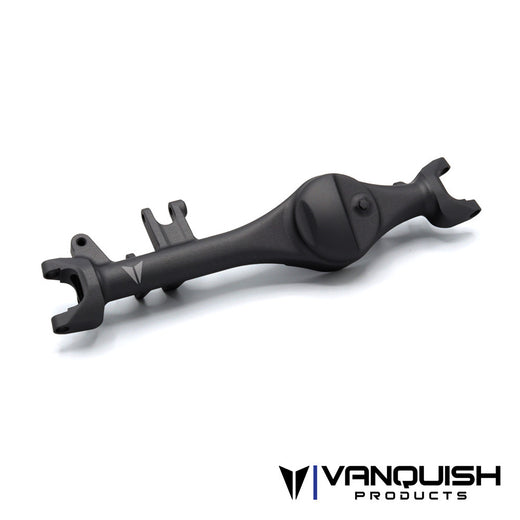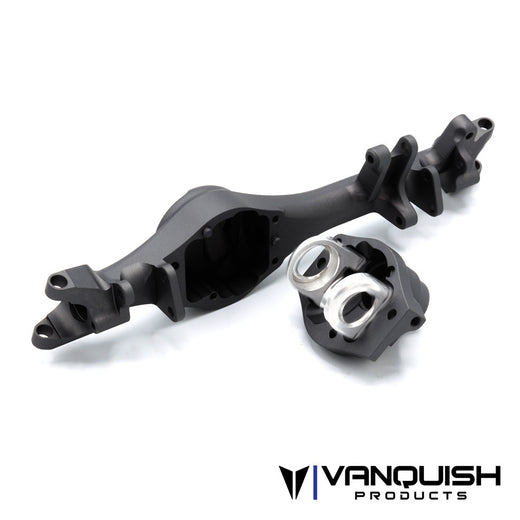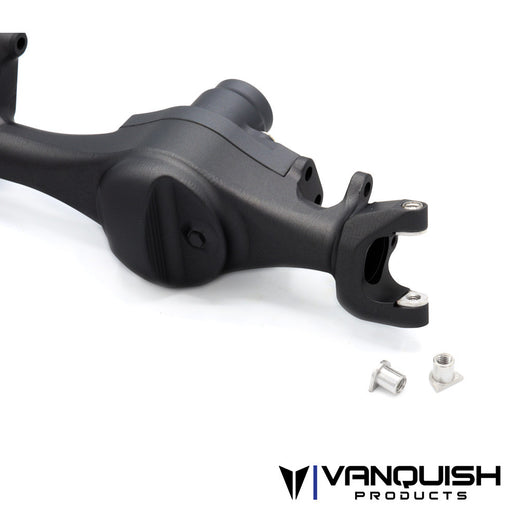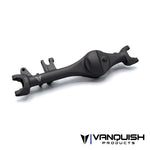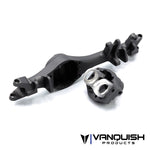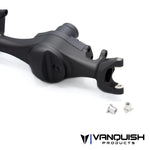 VANQUISH F10T ALUMINUM FRONT AXLE HOUSING - BLACK ANODIZED
Offset F10T Front Axle for VS4-10 based vehicles

The F10T front axle features an offset front differential housing, removable third member, and one-piece bearing retainers to create an incredibly scale and durable front axle assembly. Integrated inner c-hubs create an unmatched scale look and are strengthened to provide the most durable axle housing possible, with easily replaceable chromoly threaded inserts for the knuckle kingpin screws. F10T axles use Vanquish Products AR44 gear sets and spools.

Recommended use with the following:
Vanquish VS4-10 Kits equiped with straight axles such as the Origin, Pro and Phoenix (Straight Axle version)
Vanquish VS4-10 Chassis Kit. PN VPS10130*
VDI universal axle shafts (short and long side) PN: IRC00181
Incision S8E 90mm Shocks (Offset pivot ball at shock mounting location) PN IRC00501.
Incision Rod Ends and Pivot Balls at link locations (.280" width pivot balls)**
Vanquish Products 6-Hole AR44 Gear set. PN VPS08330 or VPS08331
Vanquish Products 6-hole AR44 Spool. PN VPS08070

Features:
Machined in the USA
Made from high quality domestic produced aluminum
Designed for use with Chromoly offset VDI universal axle shafts
Comes with One Piece Bearing Retainers
Integrated C-hub design allows for a more scale appearance
Threaded Chromoly Steel C-hub Insert provides stronger threads that are also replaceable
Double shear shock mounts for S8E offset pivot balls allowing for more shock tuning adjustment
Integrated Panhard mount
Upper link mount built into the housing for added scale appearance and strength


Includes the following:
1pc F10T Front Offset Housing
2pcs Bearing Retainers
1pc F10T Third Member
4pc Threaded Inserts
Axle Housing hardware
Instructions


Does not include the following:
hexes, hex pins, bearings, kingpin, knuckles, ring and pinion or locker
VDI universal axle shafts (short and long side) PN: IRC00181


Required Bearings List:
2pc 7x14x3.5
1pc 5x14x5
3pc 5x11x4


*These axles are for use with a Vanquish Products VS4-10 Chassis. Clearances of the offset pumpkin require additional clearances compared to centered housings and will not function properly under many other chassis designs.

**Not for use with Vanquish Products Brass Pivot Balls (.300" width)

****Due to the nature of the AR44 gear design, proper shimming of the pinion gear may be required for optimal results.