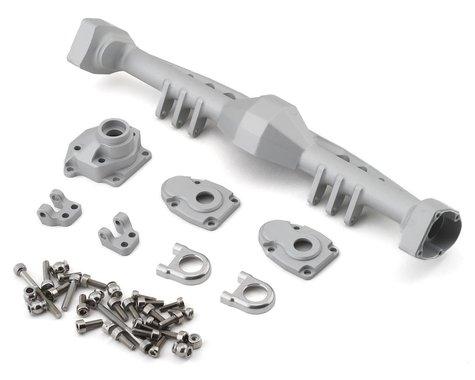 Vanquish Capra Currie F9 Rear Axle
The Vanquish Products Axial Capra Currie F9 Rear Axle provides improved performance and scale styling for your Axial Capra build. The machined aluminum housing features adjustable upper link mounts for increased tuning options, while an inner bearing pocket has been added to the inside of the upper portal box to allow for the use of an additional bearing when using Incision Capra Rear Axle shafts. The link mount spacing has been modified to fit standard Incision pivot balls, and all pivot balls are included for use with the factory rod ends. This housing is compatible with stock Capra gears, locker/spool, suspension links and shocks. 
Features:
Machined Aluminum Construction
Adjustable upper link mounts
One-Piece Machined Bearing Retainers
NOTE: Axle is designed to work with factory Axial branded Capra components. Vanquish cannot guarantee the fitment of other aftermarket brand components with these axle housings.   
Includes:
Axle Housing
3rd member
Rear upper link mounts
Suspension link pivot balls
One-piece bearing retainers
Required hardware