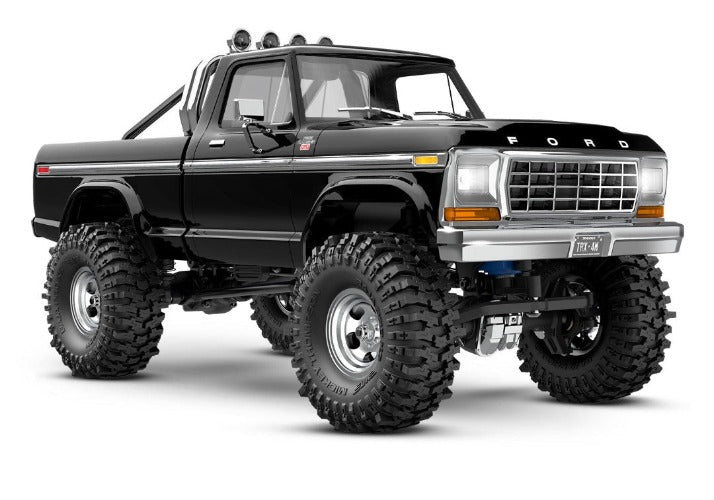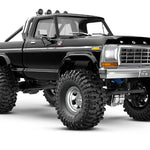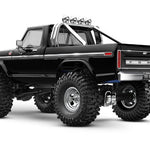 Traxxas 1/18 High Trail TRX-4M Ford '79 F150, Black
The popular TRX-4M High Trail Edition is now available as a 1979 Ford® F-150® pickup. This newest edition to the TRX-4M family features exacting scale detail and oil filled shocks, combined with the High Trail's lifted, long-wheelbase, big-tire stance.
Officially Licensed Ford® F-150® Clipless Body



Highly-detailed ABS hard body

Molded-in color won't chip or flake
Tough fender flares and rock sliders
Realistic side mirrors, door handles, roll bar, & wipers
LED headlights

Heavy-duty latching clips

Hold tightly on the trail
Release in just seconds

ECM-2.5™ Electronic Control Module

Incorporates ESC, receiver, and LED controller in one chassis
Fully waterproof for all-weather fun
Three drive profiles

Sport Mode — forward / brake / reverse
Trail Mode — forward / brake / reverse / with trail-tuned drag brake in neutral
Crawl Mode — forward / instant reverse - no neutral with 100% hill holding brake

Traxxas EZ-Set® one-button setup
Built-in Pro Scale® LED functionality
Two stage low voltage protection (LVD)
Motor overload protection

TQ™ 2.4 GHz Transmitter



Full-size 2-channel transmitter
All-day comfort with precise long-range control
Titan® 180 87-Turn Brushed Motor



Fixed gear mesh doesn't require adjustment
Forward mounting position for improved crawling dynamics

Extended Heavy-Duty Steel Ladder Frame



Deep C-channel design
Thicker center section for maximum rigidity
Rails run from bumper to bumper

Drivetrain



Full-time shaft-driven 4-wheel drive
Solid steel axles
Spool-equipped front and rear axles
Heavy-duty CV center driveshafts

Low-CG Battery Tray



Concentrates weight lower for improved stability
Wide rubber strap secures battery in place

Optional Transmission Ratios (sold separately)

Optional Low Range or Speed Gearing transmissions
Modular design swaps out in minutes
Steering

Heavy-duty 2065T steering servo
Superior 45° steering angle
Direct steering (no servo saver)

Lifted High Trail™ Suspension

Revised shock towers
Triangulated 4 link front and rear
Heavy-duty rod ends

Oil-Filled GTM™ Shocks



Provides smooth controlled damping
Realistic driving body movements
Adjustable pre-load spacers
Easily refreshed with available rebuild kits

Wheels and Tires

1″ Replica slotted chrome mag wheels


Pre-mounted Mickey Thompson® Baja Pro™ XS tires
Trail-tuned rubber compound

Battery and Charger Included

High-capacity 2-cell LiPo battery with iD®

7.4 volts
750 mAh for over an hour of run time

2-amp USB-powered charger
iD® technology for faster, safer charging

Low-Maintenance Self-Lubricating Bushings
Durable Hex hardware
MODEL 97044-1: TRX-4M High Trail™ Edition Scale and Trail® crawler with Ford® F-150® pickup body: 1/18 scale 4X4 trail truck, fully-assembled, Ready-To-Drive®, with TQ™ 2.4 GHz 2-channel transmitter, and ECM-2.5 waterproof electronics.
What's In The Box:
TRX-4M High Trail model
Licensed ABS hard body
Titan® 180 87-turn motor
ECM-2.5 Electronic Control Module
TQ transmitter
7.4 volt 750 mAh 2-cell LiPo battery
2-amp USB fast charger with iD®
High quality maintenance tools
What You'll Need:
Four AA alkaline batteries for the transmitter