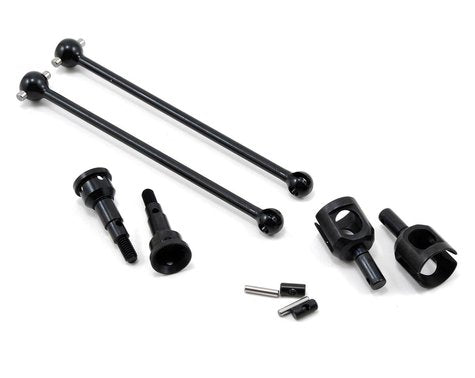 Tekno RC M6 Driveshaft & Lightened Outdrive Set
Features:
Stronger than stock driveshafts. They will last longer and require less maintenance.
Increased steering angle, smoother steering response.
'Big Ball' shaft design for smoother suspension action and better outdrive clearance
Lightened outdrives and stub axles
Hardened steel construction
Completely rebuildable
Track tested
The driveshaft parts are available separately:
TKR2210:

 

Driveshafts (2)
TKR2211:

 

Stub axles (2)
TKR2212:

 

Lightened outdrives (2)
TKR6856:

 

CV Rebuild kit (for 2 driveshafts)
NOTE:

 
These driveshafts are not compatible with the stock driveshaft parts (i.e. you can't use Tekno shafts with the stock outdrives, etc).