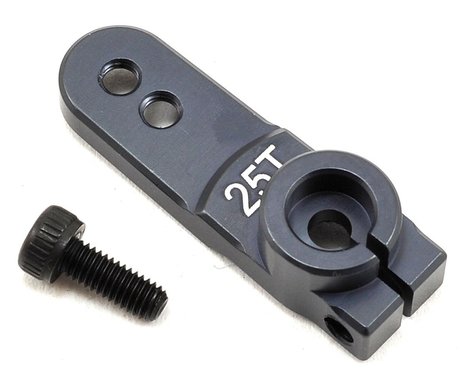 Tekno RC Aluminum Single Sided Clamping Servo Horn (25T)
This is the Tekno RC Aluminum Single Sided Clamping Servo Horn for 25 tooth servo splines; such as Futaba, Savox and ProTek R/C.
This Tekno RC Aluminum Servo Horn is designed to minimize forces transmitted back to the servo spline. The horn utilizes a bottom mount design that, as opposed to a top mount, lowers the leverage point. This means your servo will be protected better to keep you in the race.
There are two mounting positions to fine tune your application. A hefty M3 locking screw ensures the servo horn will never come loose again. The M3 screw is also easy to tighten down compared to the smaller M2 screws that easily strip out on other servo horns. Use TKR1325 (M3x14mm flathead screw) for mounting the steering linkage to your Tekno RC vehicle.  Use thread locking compound on all metal-to-metal connections.
Although this horn was designed specifically for the Tekno RC line of vehicles, it can also be used in most other applications.
Note: Tekno R/C strongly recommends using the inside (short) mounting hole for use in Tekno RC vehicles. This will make the steering response smoother and also protect your servo better.