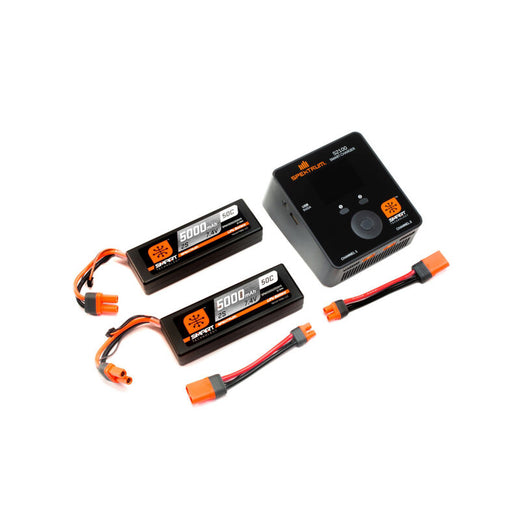 Spektrum RC Smart PowerStage 4S Bundle w/Two 2S Smart LiPo Hard Case Batteries (5000mAh)
Battery:

Integrated microchip stores unique parameters for each battery.
Smart discharge allows batteries to automatically discharge to a safe voltage.
Save time and hassle, while improving battery life.
Powerful 50C continuous discharge rating to deliver high performance and longevity.
Impact resistant ABS plastic hardcase.
No soldering required, equipped with IC5 Connectors that are compatible IC5.
This Powerstage Bundle includes (2) IC3 Battery / IC5 Device charge lead adapters to charge the Smart IC5 batteries on the S2100 charger

Charger:

High-visibility color LCD screen.
Simple touch-wheel interface.
Intelligent software makes charging simple.
Compact design with impressive output capacity.
High-speed processor delivers amazing performance.
Efficient, internal cooling system.
Backward compatible with non-Smart batteries.
Specifications:
Ampere Meter:
Yes - on main LCD display
Battery Balance Connector:
JST/XH
Battery Type:
1-6S LiFe/LiIon/ LiPo/LiHV, 1-15 Cell NiCd/ NiMH; 2-12V Pb,LiPo
Charge Protection Circuitry:
Yes
Cooling Method:
Cooling Fan
Height:
Charger: 2.8 in (72mm),Battery: .98" (25.1mm)
Input Voltage:
AC 100-240V
Integrated Balancing:
Yes - Internal Balancer & External Adapter
Length:
Charger: 4.7 in (120mm),Battery:5.5" (139.7mm)
Maximum Charge Rate:
0.1 - 12 amps,3C
Maximum Continuous Discharge Current:
50C
Maximum Continuous Discharge Rate:
50C
Model Memory:
Spektrum Smart Technology
Selectable Charge Rate:
Yes - Incremental (0.1A Increments)
Voltage Meter:
Yes - on main LCD display
Weight:
Charger: 19.7 oz (558 g),Battery: 9.5oz (270g)
Width:
Charger: 4.3 in (108mm),Battery: 1.8" (46mm)