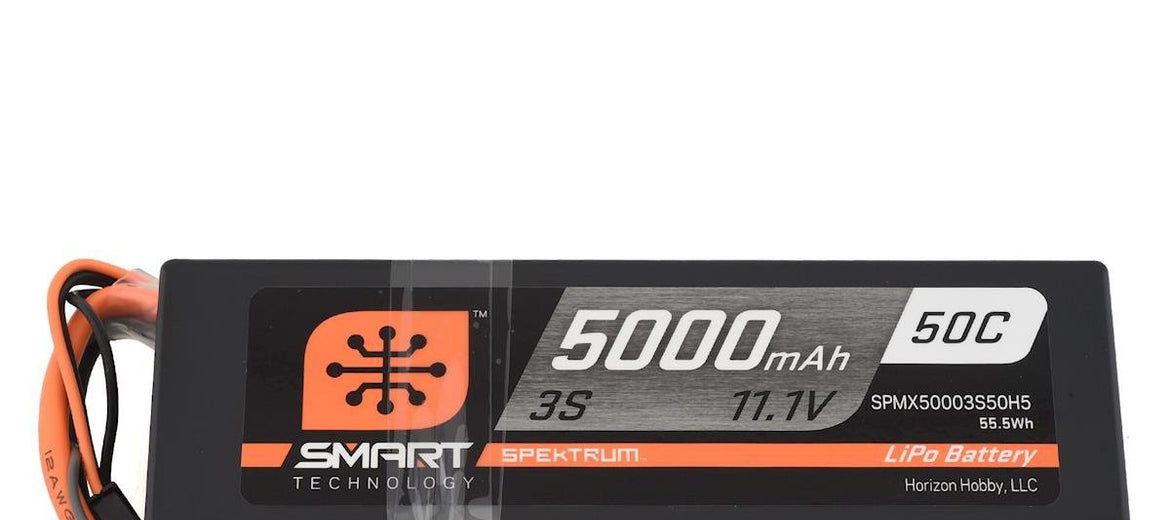 Spektrum RC 3S Smart LiPo Hard Case 50C Battery Pack w/IC5 Connector (11.1V/5000mAh)
Features
Spektrum Smart Technology Makes Charging and Maintaining Batteries Easy
Integrated Microship Stores Unique Parameters for Each Battery
IC3 and IC5 Connectors are Compatible with EC3 and EC5
Save Time and Hassle, while Improving Battery Life
Smart Discharge Allows Batteries to Automatically Discharge to a Safe Voltage

Specifications:  
Application: Surface 
Battery Type: Smart LiPo 
Battery Voltage: 11.1V 
Capacity: 5000 mAh 
Connector Type: IC5 
Hard Case: Yes 
Height: 1.45 in. (37mm) 
Length: 5.4 in. (138mm) 
Maximum Continuous Discharge Rate: 50C 
Number of Cells: 3 
Size: 5.4x1.8x1.45 in. (138x46x37mm) 
Weight: 0.85 lbs. (385g) 
Width: 1.8 in. (46mm)

CHARGING NOTE: This battery can only be safely charged with a Spektrum Smart Battery Charger. NEVER, UNDER ANY CIRCUMSTANCES, charge this battery using a non Spektrum Smart Battery Charger.