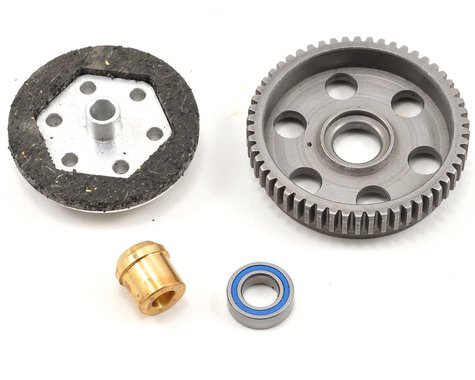 Robinson Racing Gen3 Slipper Kit (Slash 4x4) (54T)
This is an optional Robinson Racing Gen3 Slipper Kit, and is intended for use with the Traxxas Slash 4x4. Robinson Racing GEN3 Slipper Units are over-engineered to meet the punishing demands of the most powerful brushless motor systems! The new GEN3 Slipper Unit is a captured design to prevent slipper pad blowout and deliver maximum power to the ground. The hi-performance hardened steel spur gear will not fail or strip. Strong and tough 0.8 module/32-pitch teeth handle all the power you can pour on the spur gear. Aircraft grade billet aluminum backplate will not bend or break. Increased surface area of the oversized pad insures dependable performance. Less total parts reduces flex and wobble in the spur gear and slipper unit.

NOTE: It is recommended that you combine this spur gear with a Robinson Racing .8 Mod hardened steel pinion gear for optimum durability.
Includes:

(1) Spur Gear
(1) Slipper plate
(1) Brass bushing
(1) Center bearing