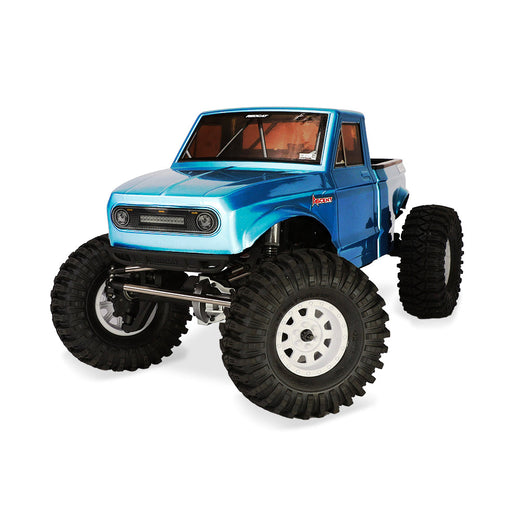 Redcat Ascent Crawler - 1:10 LCG Rock Crawler, Light Blue
1/10 Scale Brushed LCG Rock Crawler - Includes: 2.4Ghz Radio, Ready to Run, Battery and Charger Not Included
Discover the Everest Ascent Rock Crawler, a culmination of extensive research, customer feedback, and cutting-edge engineering that delivers outstanding performance right out of the box. This rugged crawler is offered in two captivating aesthetic options to suit your style and preferences.
For those seeking adventure on weekends, the red Ascent features a classic 1-piece painted body with sleek tinted windows, providing an attractive and timeless appearance. On the other hand, the blue Ascent caters to serious rock crawling enthusiasts with its 2-piece dovetailed & pinched body design, offering the flexibility to remove the bed for weight reduction or custom modifications.
Under the hood, you'll find innovation and durability at their best. The forward-mounted motor, strategically positioned low, ensures optimal rock climbing performance. Meanwhile, the centrally mounted divorced transfer case boasts a quick-change system for effortless gear ratio adjustments, enhancing off-road capabilities.
The Everest Ascent also offers a host of premium features, including portal axles for increased ground clearance, a low center of gravity (LCG) flat rail chassis, multiple battery tray positions for customization, and precision components like 32P and 48P gears. A powerful motor and ESC, digital servo, aluminum shocks, and versatile mounting options make this crawler a top-tier choice for enthusiasts.
Elevate your off-road experiences with the Everest Ascent Rock Crawler, backed by the Redcat RTX-4C 4-channel radio system for precise control. Conquer challenging terrains and unleash your passion for adventure with this exceptional crawler that sets a new standard for performance and affordability.

Specification:
Exceptional Out-of-the-Box Performance

Aesthetic Variety: Red and Blue Models

42T 550 Brushed Motor

4-Wheel Drive

35kg Metal Gear Waterproof Servo

3mm Steel LCG Chassis

Aluminum Bodied Oil Filled Performance Shocks

Front Tilt Body Mounting System

Innovative Forward-Mounted Motor

Quick-change Underdrive Transfer Case

Rigid and Customizable LCG Chassis

Ground-Clearing Portal Axles

Powerful 550 42-turn Motor & V4 Crawler ESC

RTX-4C - 4 Channel Radio System, Adjustable EPA On All Channels

Length - 444mm

Width - 242mm

Height - 213mm

Wheelbase - 313mm

Ground Clearance - Axle - 54mm /  Center Skid - 70mm
Needed to complete:

Battery and Charger
AA Batteries for Transmitter
EVEREST ASCENT ROCK CRAWLER
Performance out of the box! The Ascent is a culmination of years of R&D and customer feedback to create a rock crawler that performs at a high level and won't break the bank. The Ascent is available in two aesthetic options.
---
The red Ascent is perfect for the weekend warrior. It includes a classic 1-piece painted body with tinted windows.
The blue Ascent is for the serious rock crawling enthusiast. It comes as a 2-piece dovetailed & pinched body. The bed can be removed to save weight or for additional modifications.
FRONT TILT BODY MOUNTING SYSTEM
The body is hinged at the front for a clean look.
INNOVATION & DURABILITY
Forward mounted motor is positioned low for optimum rock climbing performance. The divorced transfer case is centrally mounted, and features a quick-change system to minimize the effort required to change the underdrive ratio for the rear axle.
Quick-change underdrive transfer case allows for quick gear changes without the need to remove the entire transmission.
Includes optional underdrive gears that allow for 10% and 20% underdrive to the rear axle improving climbing performance. (0% out of the box)
32P Spur & 48P transfer case gears with Mod 1 portal gears
LOW CENTER OF GRAVITY (LCG) FLAT RAIL CHASSIS
3mm steel chassis is extremely rigid and easily customizable.
MULTIPLE BATTERY TRAY POSITIONS
Adjustable battery tray for standard size batteries or shorty packs.
PORTAL AXLES
Portal axles give more ground clearance without needing bigger tires. More of the gear reduction happens in the portal axles, which means less torque twist in the body than with a traditional axle.
REDCAT 1.9 CLASSIC WHEELS
Classically styled off road wheels wrapped with aggressive open lug soft compound rubber tires.
BRUSHED 550 42 TURN MOTOR - V4 CRAWLER ESC WITH 7.4V BEC @ 5A
PRECISION HEXFLY DIGITAL SERVO
Powerful metal gear waterproof servo running at 35kg out of the box. (Capable of 42kg @ 8.4V)
PERFORMANCE ALUMINUM SHOCKS
Aluminum bodied oil filled shocks with mini exterior springs. Internal springs installed for best performance to minimize shock unloading.
FULL BEARINGS & METAL LINKS
VERSATILE MOUNTING SURFACES
Multiple mounting locations for ESC, receiver & battery.
SERVO WINCH MOUNT LOCATION
Remove cover to expose winch mounting location.
REDCAT RTX-4C
4 Channel radio system with adjustable EPA on all channels