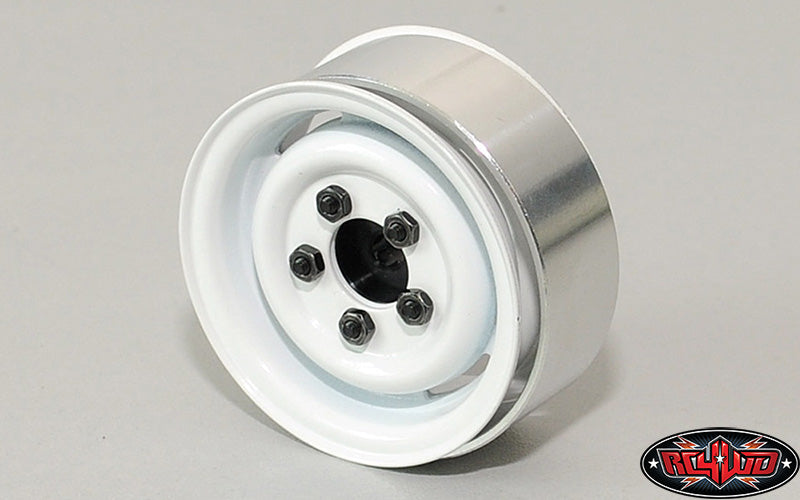 RC4WD 1.55" Landies Vintage Stamped Steel Beadlock Wheels (White)
Stamped Steel Wheels

5 Lugs

Size: 1.55

OD: 39.3mm / 1.55in

Width: 20.5mm / 0.8inch

Negative Offset: 8mm / 0.31 inch

Pin Drive (Less Offset and Deep Dish)

Powdercoated in White

Uses: SHCS M2 x 8mm (Z-S0750)


Uses: Regular M2 Nuts (Black)

Each Wheel Weighs: 44 g / 1.55 oz
What's Included:
4x 1.55" Landies Vintage Stamped Internal Steel Beadlock Wheels

2x M2x16mm SHCS
Optional Parts:
Reduced Offset Hub for Landies Vintage Stamped Wheels (VVV-C0371)

Narrow Stamped Steel Wheel Pin Mount 5-Lug for 1.55" Landies Wheels (Z-S1940)
Replacement Hardware:
20x M2 x 8mm SHCS (Black) (Z-S0750)

20x M2 Nuts (Z-S1144)
Instructions:

Notes:

This wheel fits the Pitbull Growler 1.55 Scale Tires

Due to many different methods to design Tires and Wheels, we have no control over other manufacturers products. So we can only tell you that RC4WD Tires and Wheels work together. In some cases our Wheels and Tires will work with other brand Wheels and Tires, but we can not guarantee the outcome.
Click here to download the RC4WD full wheel comparison list.
This product has been tested and approved by the Recon G6. It is Recon G6 Certified.