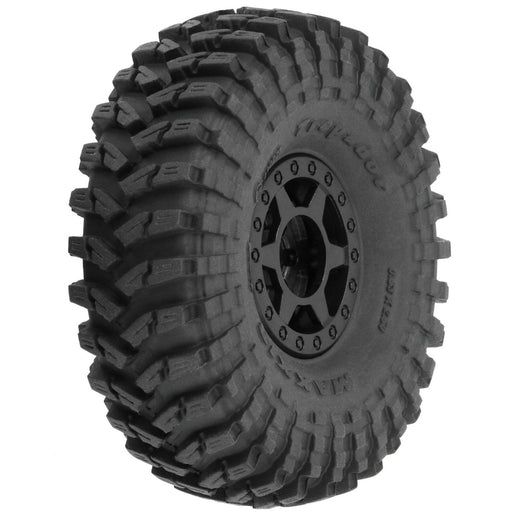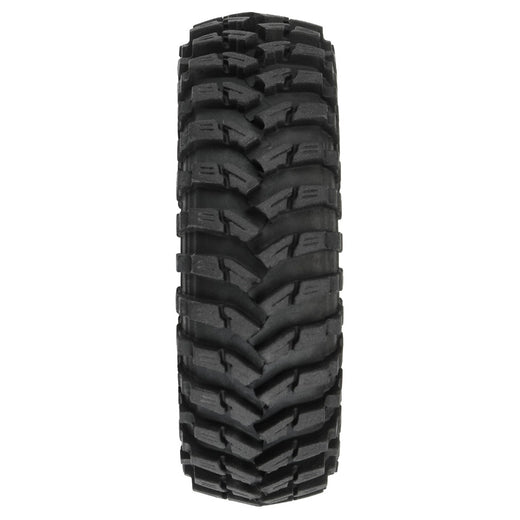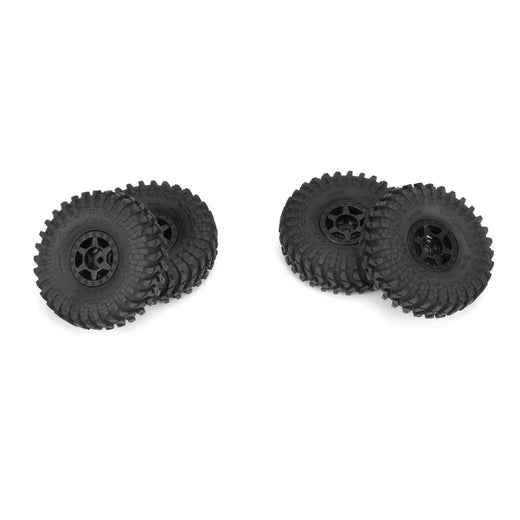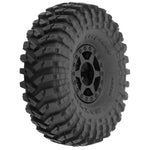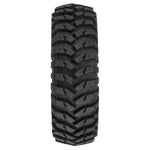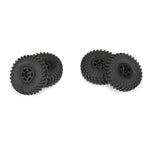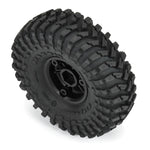 Pro-Line 1/24 Maxxis Trepador F/R 1.0" Tires MTD 7mm Black Holcomb (4)
Product Details
Key Features
Designed for Extreme Off-Road Performance
Curved Tread Siping
2.5" Tall for a Massive Oversized Look
Mini Holcomb Wheels with +2mm Offset for a Wider Stance
True Bead-Loc Wheel Design
In The Box
(4) Maxxis Trepador 1.0" Tires Mounted on Mini Holcomb Black Internal Bead-Loc 7mm Hex Wheels
Overview
This is a pair of Maxxis® Trepador® 1.0" Crawler Tires for SCX24™ and AX24™. Designed to conquer the most extreme off-road terrain with ease, the Trepador® is Pro-Line's first mini crawler tire from Maxxis®!
 
Coming in at a massive 2.5" tall, the Trepador® is an oversized tire for high competition mini-crawlers such as the AX24™ or your modified SCX24™! Pro-Line's design engineers captured all the unique features of the Trepador® M8060 tire: the ultra-aggressive sidewall for excellent traction on sand and rocks, the multi-curve tread siping for improved traction on loose dirt and slippery terrain, and the unique tread element arrangement that ensures uniform contact area for maximum contact patch. It's made from a super soft compound to help your mini-crawler climb to new heights and the tires are supported with soft foam inserts.
 
The Trepador® 1.0" tires come in a set of 4, conveniently pre-mounted to our Mini Holcomb Black Internal Bead-Loc 1.0" Plastic 7mm Hex wheels! Just like Pro-Line's 1/10 size Holcomb wheels, these mini versions give your 1/24 crawler a unique, retro-inspired look and are super easy to use by only requiring 3 screws per wheel for mounting tires. The unique 3-piece plastic wheel design bolts together in the back and locks onto Pro-Line's 1.0" Crawling Tires, while also being compatible with many existing 1.0" tires for the SCX24™. The wheels also feature a +2mm offset for a wider, more stable stance. If you own an SCX24™, then Pro-Line's pre-mounted set of Maxxis® Trepador®  1.0" Tires are a must-have! Get your set today!
Please note: All tires & wheels are sold in pairs, unless otherwise noted
PRO1022510 | Maxxis® Trepador™ 1.0" Tires Mounted on Mini Holcomb Black Internal Bead-Loc 7mm Hex Wheels (4) for SCX24 Front or Rear
Features
TIRE FEATURES
Designed for Extreme Off-Road Performance
Ultra-aggressive Sidewall Design
Curved Tread Siping
Tackle Tough Terrain in Scale Style
Foam Inserts Included
2.5" Tall for a Massive Oversized Look
WHEEL FEATURES
Mini Version of the Popular Holcomb Wheels
+2mm Offset for a Wider Stance
True Bead-Loc Wheel Design held Together by 3 Screws
Blacked-Out Wheel Color
7mm hex to fit SCX24™
3-piece Plastic Wheel Design fits 1.0" SCX24™ Tires
Fits
Product Specifications
| | |
| --- | --- |
| Wheel Type | Holcomb |
| Inner Tire / Outer Wheel Diameter | 1.0 in |
| Product Width | 0.83" (21 mm) |
| Tire Tread | Maxxis Trepador |
| Vehicle Type | Rock Crawler |
| Package Type | Pre-Mounted |
| Tire Type | Mini Crawler |
| Track Surface | Rock Crawling |
| Wheel Position | Front/Rear |
| Compound / Hardness | Soft |
| Color | Black |
| Scale | 1/24 |
| Insert Material | Open Cell |
| Product Height | 2.5" (64 mm) |
| Quantity Option | 4 in a package |
| Tire Compound | Soft Rock |
| Wheel Hex Size | 7mm |