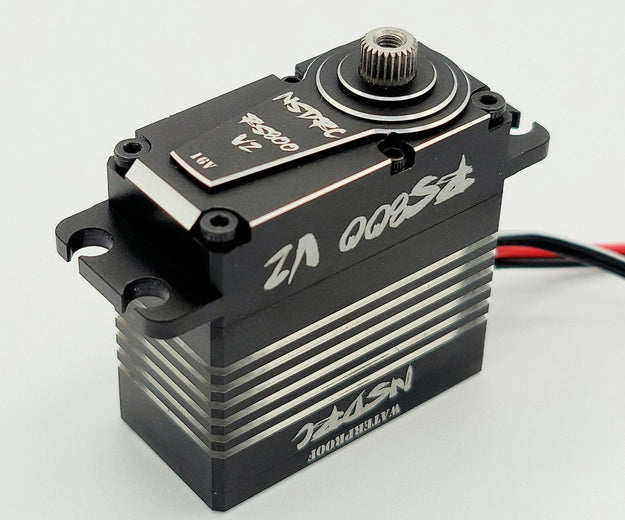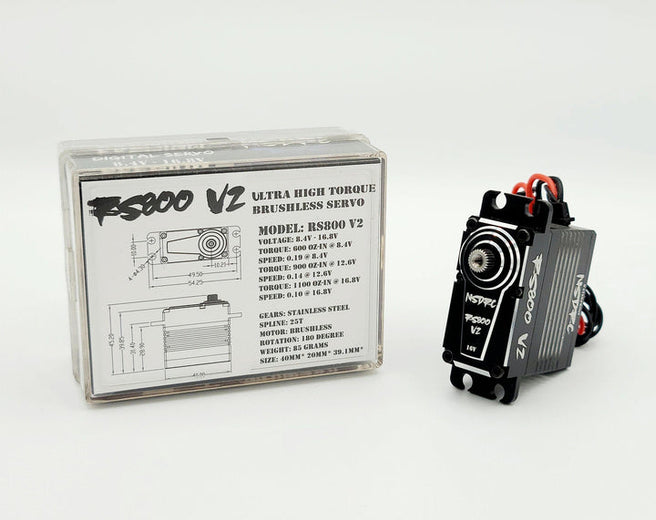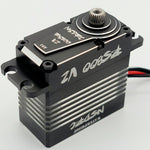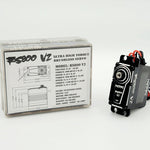 NSDRC RS800 V2 ULTRA HIGH TORQUE BRUSHLESS SERVO
RS800 V2 Ultra High Torque Servo
Our RS800 V2 is one of the highest performing servos on the market! Our proven hardened stainless steel gears and upgraded 2mm thick main dowel pin and a 1.9mm secondary that have never failed!  Built with the highest quality parts, designed for the power and speed demands of competition level RC crawlers. This is arguably the strongest and most durable direct power servo on available. At just 2s lipo you'll be making 600+oz of tire twisting power, Then 900+oz on 3s lipo, and 1100+oz on 4s lipo 16.8v!!! 
 
Operating Voltage: 8.4v - 16.8v 
Torque                                          Speed 
600oz/ 43kg @ 8.4v                   0.18 @ 8.4v 
900oz/ 65kg @ 12.6v                 0.14 @ 12.6v 
1100+oz/ 80kg @ 16.8v             0.10 @ 16.8v 
 
•Direct power 8.4v - 16.8v 
•All Aluminum CNC casing 
•IP67 rated waterproof, Do Not Submerge 
•Hardened stainless steel gears 
•Brushless motor 
• Spline: 25T 
• Dimension: 40 x 20 x 39mm 
• Weight: 85 
 
☆The power connection plug, or power switch on your esc, MUST be disconnected/ turned off when not in use to prevent damage to the servo and/or battery! 
 
Manufacturer Warranty: Lifetime warranty on gears for original owner. 1 year warranty of servo from all mechanical and electrical defects! We assume no liability of damage caused from excess abuse, modification of servo/wires, excess water use, or damage caused by use with Holmes Crawlmaster Mini, or any other repurposed drone esc's. Nothing is unbreakable! For all warranty issue's you will need to send the servo in to us to be inspected.