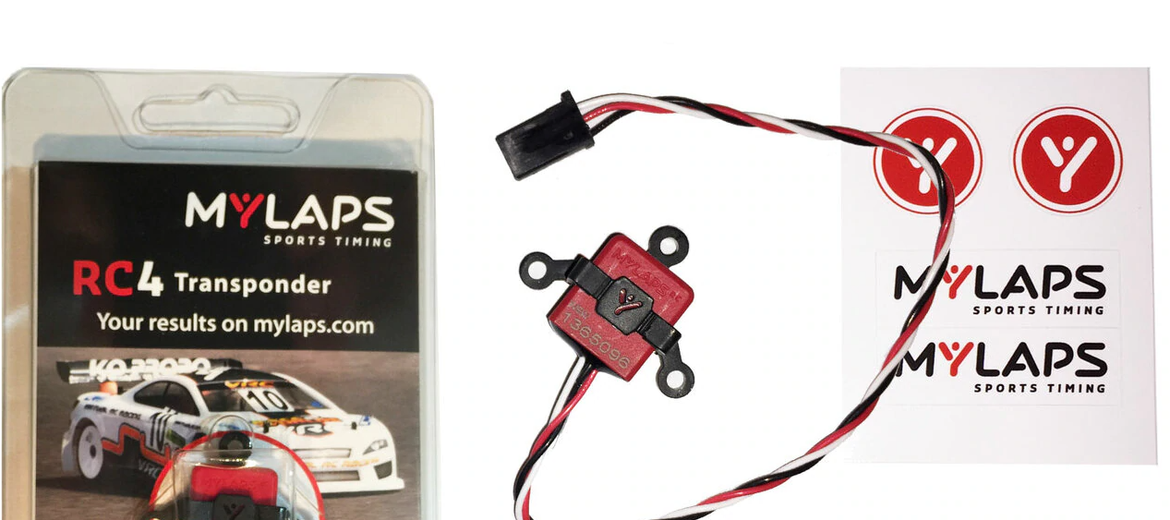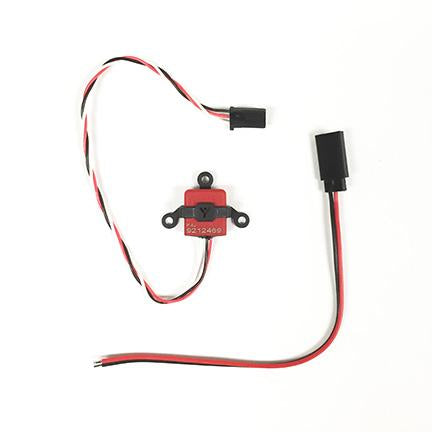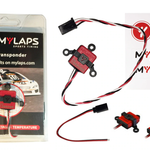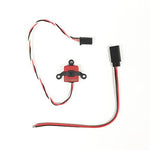 MyLaps RC4 Transponder (3-wire)
MyLaps RC4 Transponder (3-wire)
Includes:

(1) RC4 "3-Wire" Personal Transponder

(1) Extra connection cable
(1) Holder
(1) MYLAPS sticker
Specifications:

Max Speed:

 120 km/h (75 mph)

Temperature Range:

 0 - 50°C (32 - 122°F)

Dimensions:

 16x19x6mm (0.7x0.8x0.2")

Weight (Including Holder):

 4.7g

Operating Voltage:

 3.0 - 16 VDC

Humidity:

 Max. 90% relative

Signal Transfer:

 Magnetic induction

Code Resolution:

 1.5 ms

Power:

 Feed from free receiver channel (ch3 or batt)

Connection Plug:

 Connect using a standard Servo plug

Power Consumption:

 14mA @ 6 VDC

Wire Insulation:

 Aerospace/MIL-spec high-temp PTFE (Gasoline/Nitro resistant)

Quick Change Holder:

 Yes

Compatible With:

 RC4 Timing System only!
This is the MYLAPS RC4 "3-Wire" Direct Powered Personal Transponder. In R/C racing, details matter. The slightest change or modification can be the difference between making the box, or being a back marker. So MYLAPS developed the next generation RC4 3-Wire transponder to do more than just count your laps. The RC4 3-Wire provides the user with telemetry data such as lap times, connected voltage and ambient car temperature, information that can be used to shave seconds off your overall times. RC4 transponders are compatible with RC4 timing systems can be used for both indoor and outdoor on-road and off-road racing and will perform on just about any surface.

The Standard in RC Timing!
Each transponder comes with a unique number linking your car to you as its driver. You can get more than one transponder with the same personal number, or even pick your own lucky number. 

How Does it Work?
The system picks up the signal sent out by the transponder mounted on your car. This signal is analyzed and lap times are measured. The system knows exactly which lap you are on and what your position is. If the track has the system hooked up to an internet connection, the data is passed on and published to your personal MYLAPS account. When you drive on a track with a MYLAPS RC4 timing system installed, your account will also show you information about the connected voltage and ambient car temperature.

Your Personal Data
Your training and event results are uploaded by the track's system or race officials. You can check, analyze and share your performance data on your personal account online. Simply create a personal account and register your transponder.

Easy to Set Up & Maintain
It is easy to get your transponder in and out of your car using the holder that comes with your RC4 package. The holder should be installed at a maximum height of 15 cm (6 inches) above the ground. Transponders need to survive the heat of battle. RC4 transponders are shock and mud-proof and can be used safely for both indoor and outdoor racing. They can even be used for model boat racing. Because they connect to your car's power output, you don't have to worry about recharging them. If you use your transponder a lot, it can get dirty over time. Use a soft brush and some lukewarm water to clean it.