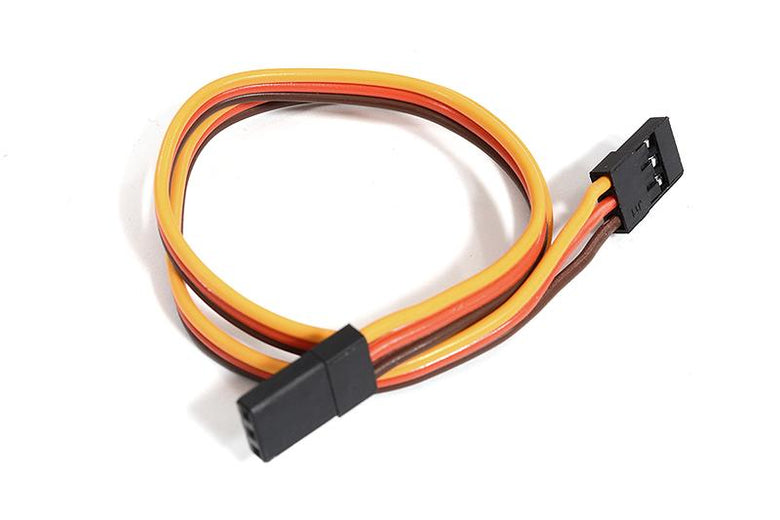 Integy Servo Wire Harness 300mm Extension Cord for RX C30618
Integy Servo Wire Harness 300mm Extension Cord for RX C30618
Installation Notes
Integy products are designed for experienced RC enthusiasts. Unless included with the product itself, most of our products do not include instructions. The purchaser is responsible for any product assembly/disassembly, any set-up and adjustment, and periodic maintenance. If you need help disassembling your stock vehicle, you will need to refer to the instruction manual/exploded parts view of your particular vehicle, as provided by the manufacturer of your vehicle. If you are unable to assemble and/or install a product, please consult your local Integy dealer for assistance.
All products will require some prep out of the package. Some items (shocks, gearboxes, axles, etc.) are assembled for packaging purposes only, and may require standard prep before installation and usage, such as shimming for proper alignment, checking tightness of all components and fasteners, installing your own shock oil, anti-seize, or grease. Please be sure to apply threadlock on all metal-to-metal interfaces prior to installation; do not just install the item out of the package and assume they have been prepped correctly. Check, adjust, and set/reset all new items when taken out of the package.
Wheel and tire sets may be sold partially assembled for packaging purposes only, and require standard wheel/tire prep before installation and usage. All wheels and tires require CA glue (if press-fit style) or separate assembly (if beadlock style) before being used. Wheels and tires are not always pre-glued from the factory (unless specified in the product name or description).
Unless specified, not all products include hardware; if new or different-sized hardware and/or fasteners are included with the upgrade kit, those are meant to replace the factory hardware. Extra hardware, shims, or spacers may be required for some installations. Some parts may require permanent modification to the vehicle for fitment, and may eliminate certain OEM features. Some items may require modification to the vehicle for proper clearance.
Due to factory supply delays beyond our control, certain products may ship with hardware (screws, washers, etc.) that is different from what is originally shown in the website product photos. Any alternates will be compatible hardware that will not affect the functionality of the product.
Certain Integy-branded items replacing OEM parts may not be compatible with another Integy-branded items due to design language.
Colors shown in product photos are as close to possible to the actual item; color matching between parts is not guaranteed. Parts are for specified usage only. We do not guarantee product compatibility with other aftermarket branded products.
For more product fitment info and guides, go to Product Instructions

Frequently asked product questions can be seen in our

 

FAQ
If you have questions about this product, contact us to Get Help