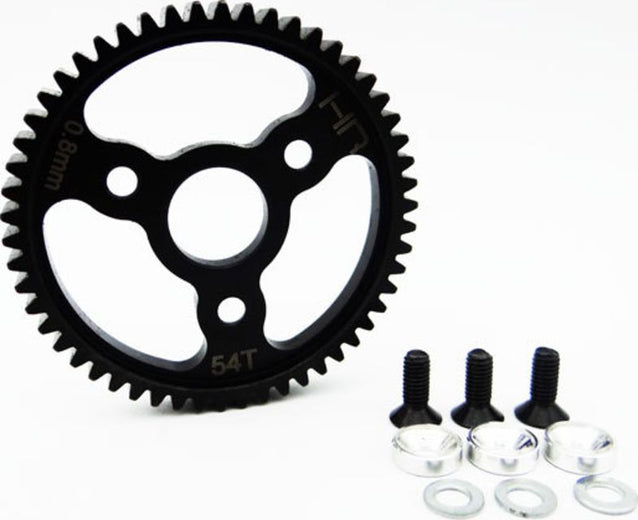 Hot Racing 54 tooth, 32 pitch (0.8 Mod) spur gear
Hot Racing 54 tooth, 32 pitch (0.8 Mod) spur gear for the 1/10 Traxxas E-Revo, Jato 3.3, T-Maxx 3.3, T-Maxx 2.5R, Summit, Rally VXL, Slash 4X4, and Stampede 4X4

FEATURES:
- CNC machined and lightened hardened steel construction
- Black oxide coating for durability and corrosion resistance
- Silver-colored countersunk washers

YOU WILL RECEIVE:
- 54 tooth 32 pitch spur gear
- Three (3) mounting screws
- Three (3) silver-colored countersunk washers
- Three (3) washers (use as needed underneath countersunk washers to prevent screw ends from protruding too far through spur mounting plate)

SPECIFICATIONS:
- Number of Teeth: 54
- Gear Pitch: 32 pitch (0.8 module)
- Mounting Holes: 3
- Tooth Face width: 6mm (0.24 inch)
- Internal diameter: ~11mm (~0.43 inch)

REQUIREMENTS:
- Hardened clutch bell or pinon gear
- Requires a slipper transmission. Will NOT work with vehicle equipped with a center gear differential. Use Hot Racing SSLF2 series gears for vehicles equipped with a center gear differential.