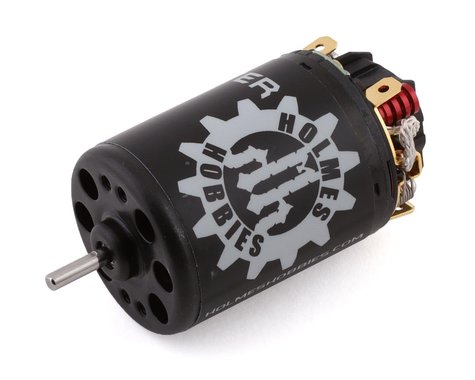 Holmes Hobbies Torquemaster Pro 550 21T
Note:  This is a new product, please allow 2 to 3 weeks for building to order.
When you need a quality brushed motor, there is no finer than a Pro Handwound from Holmes!  The TorqueMaster series offers fantasic torque with extremely smooth startup for a well rounded motor for your Rock Crawler. 
FEATURES:
550 size provides extra torque and power
Hand wound at Holmes Hobbies for highest performance
5mm web 3 slot armature- Maximizes torque, efficiency, and offers smooth startup
Epoxy balanced armature ensures maximum torque, efficiency, and startup smoothness 
Silver brazed commutator connections allow higher tempurature operation
Vacuum dipped armatures withstand high RPMs without failure
Gold-plated copper brush hoods to resist corrosion and provide lowest resistance
Aluminum heatsinks shed heat
Filter PCB reduces EMF noise
Brush damper reduces noise and arcing
Can – 1.4mm thick uninterrupted back iron
High-power FB12 ceramic wet magnets maximize torque and efficiency
Dual Japanese Ball bearings
Adjustable timing
Holmes XX springs for consistent drag brake
Holmes Soft Copper brushes for high torque and longest motor life
Broken in for immediate installation and use
Specification:
21 turn three slot / 27,250 RPM @12v @ 12 degrees timing
216 grams 
36mm OD x 60 length (not including shaft)
1/8" diameter D shaft
1" (25.4mm) mounting pattern for M3 screws
6-9 cell nimh, 2-3s Lithium 
23mm OD x 29mm length rotor
More information about motor rotation and timing can be found on 
our blog
.
Every brushed motor carries a 30 day warranty to cover manufacturing defects. Damage caused by improper gearing is not covered under warranty.