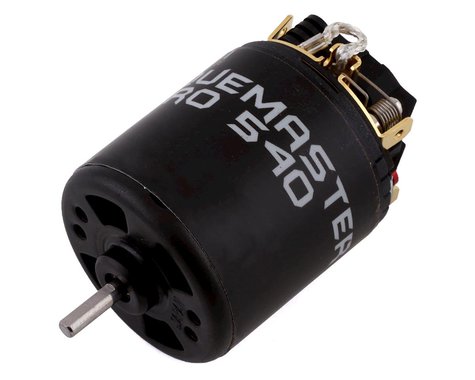 Holmes Hobbies Torquemaster Pro 540 40T
When you have a need for power that isn't satisfied by a normal brushed motor, it's time to step it up a notch with a precision-built hand wound motor! The Holmes Hobbies TorqueMaster Pro 540 is a hand built with the finest parts and construction techniques available. Our building team has a combined 45 years of experience! We guarantee the finest and most up to date construction in our Pro motors. With podium spots and overall wins at state, regional, and national events worldwide, this motor is the proven winner! When you want the best 540 motor, choose the TorqueMaster Pro!
Hand-Wound Armature – Our pro-level armatures feature pattern hand-wound coils for highest power and efficiency.  Wind termination is reinforced using high-temp silver alloys, with state of the art resin impregnated coils. All armatures are then precision epoxy balanced and the commutator is diamond trued. All armatures are marked with wind. One cannot build a finer or more precise armature!
Standup Brush and 7.5mm or 10mm Comm- Maximizes torque and motor longevity
Gold plated copper brush hood to resist corrosion and provide lowest resistance
5mm web 3 slot armature- Maximizes torque and efficiency
Can – 1.4mm thick can features minimal venting and two FB9 magnets to maximize torque and efficiency
Onboard Surface Mount Capacitors – Helps eliminate unwanted radio interference caused by electric motors
Dual Ball Japanese ABEC 3 bearings
Adjustable timing
Holmes XX Springs for consistent offroad performance
Holmes Soft Copper brushes for high torque and long motor life
Broken in for immediate installation and use
Timing:

 

6 degrees of advance is popular and will not adversely affect motor life.  When buying pairs of motors with the vehicle indicated, we will speed match and mark motors front and rear at no extra charge.
Wire leads: We will attach a set of Holmes motor leads if you select this option.
Wind: Chose your preferred motor speed.  If not in stock, you can order as a custom and we will wind it for you.
Motor speeds taken from averaged lots at 7 volts with zero timing with no load:
27t = 2100 rpm/volt
35t = 1565 rpm/volt
More information about motor rotation and timing can be found on 
our blog
.
Every brushed motor carries a 30 day warranty to cover manufacturing defects. Damage caused by improper gearing is not covered under warranty.