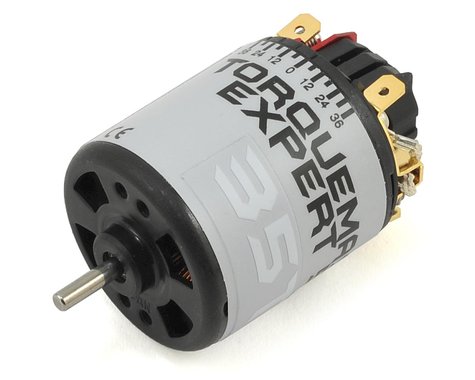 Holmes Hobbies Torquemaster Expert 540 35T
When you need a quality motor, look no further than the TorqueMaster Expert 540 from Holmes! The Expert series features the same quality construction as our Pro motors, but with a machine wound armature for an affordable alternative that won't break the bank.
Machine-Wound Armature
Standup Brush and 7.5mm commutator
Gold-plated copper brush hood to resist corrosion and provide lowest resistance
5mm web 3 slot armature- Maximizes torque and efficiency
Can – 1.4mm thick can features minimal venting and two high-power FB9 wet magnets to maximize torque and efficiency
Dual Ball bearings
Adjustable timing
Holmes XX springs for consistent drag brake
Holmes Soft Copper brushes for high torque and long motor life
Broken in for immediate installation and use 
Timing: 6 degrees of advance is popular and will not adversely affect motor life. When buying pairs of motors with the vehicle indicated, we will speed match and mark motors front and rear at no extra charge.  
Wire leads: We will attach a set of Holmes motor leads if you select this option.
Motor speeds taken from averaged lots at 7 volts, zero timing with no load:
35t = 1450 rpm/volt
45t = 1210 rpm/volt
55t = 987 rpm/volt
More information about motor rotation and timing can be found on 
our blog
.
Every brushed motor carries a 30 day warranty to cover manufacturing defects. Damage caused by improper gearing is not covered under warranty.