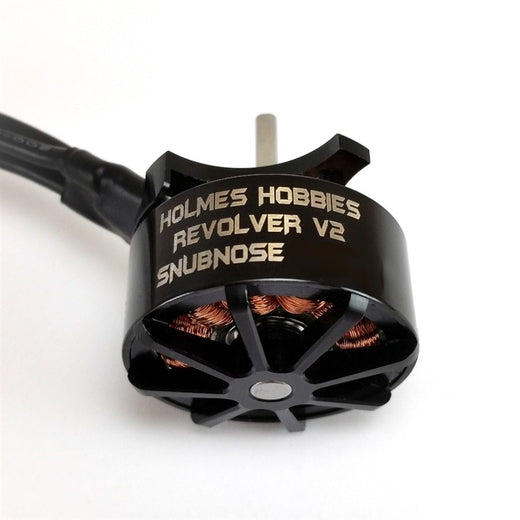 Holmes Hobbies Revolver V2 Snubnose 1000KV
Do you need a small and light motor for your vehicle, but do not want to sacrifice torque? Do you need the finest sensorless low speed control? The Revolver Snubnose 540 is an extremely lightweight choice with exceptional startup and feel that rivals brushed motors!  The Snubnose model is 1/2 of the "540 Revolver", and is fantastic for vehicles wanting lower CG and lighter weight for agility.  
Applications:
1:10 scale Trail and Scale rigs (SCX10, SCX10ii, Wraith 1.9, Enduro, TRX4 Sport,TrailFinder 2, etc..)
Competitive RC Rock Crawling (RECON G6; SORRCA; WRCCA; etc..)  
Educational, Recon, or Battle Robots
Snubnose is NOT recommended for "rock racers" or 2 speed vehicles, such as the TRX4, Wraith, Bomber, etc... 
Features:
Bolts up to standard "540" mount
Extremely small and light, yet torque dense
1/8" shaft fits common R/C pinions
200mm 16ga silicon motor leads (does not include bullet plugs)
Specs:
Brushless DC Outrunner Motor
14 pole 12 slot stator
2-4S LiPo voltage
1/8" D shaft output (standard 540)
25mm mounting pattern for M3 screws (standard 540)
73g without wires, 88g with wires 
35mm diameter x 26.7mm long 
28x10mm stator