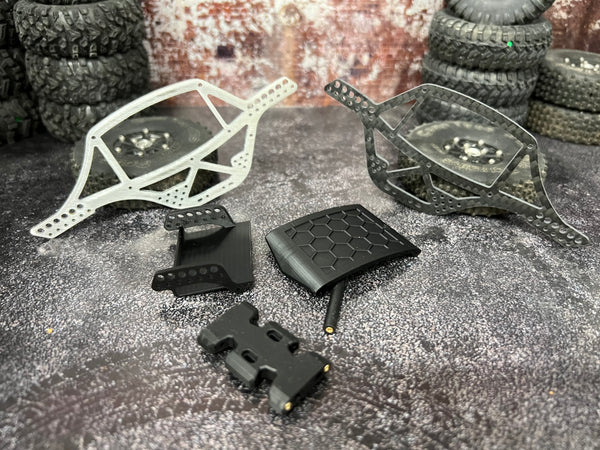 Hard Park RC Dementor V2 Chassis Kit
Our updated version of the Dementor. We kept the style from the original but added some key features to make it vastly more tunable.
FEATURES
The chassis has been shortened up front for better servo clearance but another set of shock mounting holes were added. The belly of the chassis has had the corners rounded to help it slide over the rocks with ease. Upper link mounting tabs have been added to adjust squat/anti squat, caster, and driveshaft angles.  
It features a flat skid to increase belly clearance and brass threaded inserts to mount it to the chassis. It has recessed hardware on the bottom and the ability to reverse your transmission without flipping the skid. The lower link mounts are angled to accommodate wider axles and the screws are captured within the skid. It is available in two versions, one for stock links and one for Hard Park links. 

The printed accessories have undergone styling updates. The front battery mount fits a Palm Beach Bots 180mah 3s perfectly. The roof now has an embossed hexagon pattern for that Hard Park style. The crossmember also has threaded inserts.

INCLUDES

Chassis rails
Skid 
Battery tray 
Roof
Rear Crossmember 
All hardware to assemble chassis and mount links