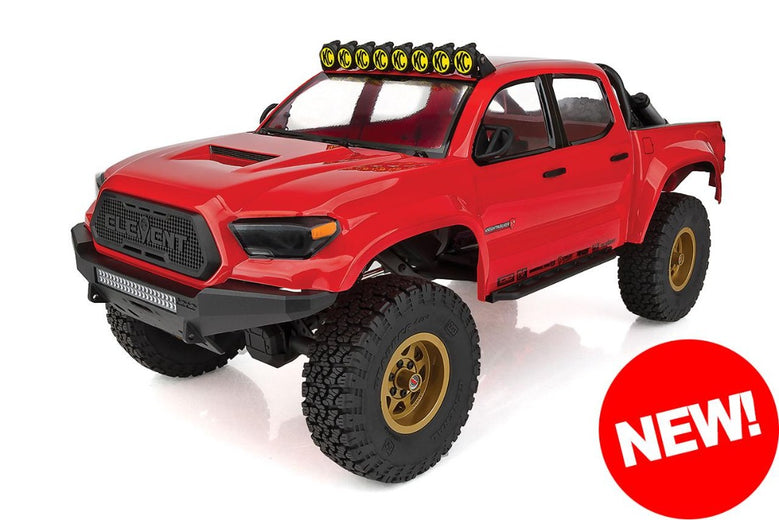 Element Enduro Trail Truck, Knightwalker Red RTR
The Enduro Trail Truck comes ready for adventure right out of the box, with performance-driven Reedy Power electronics. The ultra-smooth and powerful 16-turn 5-slot Reedy brushed crawler motor and Reedy Power metal-gear, water-resistant servo supply ample power to this tough rig.
A PERFORMANCE RIG BUILT TO ENDURE. When hitting the trail, you want to do it with confidence -- and the answer is the Enduro Trail Truck!

At the heart of the Enduro is our revolutionary StealthR X gearbox. Although the exterior appears to have a conventional 3-gear transmission look, the inside is far from conventional. The Stealth X features the ability to adjust the rear drive ratio independently of the front drive across three levels: stock overdrives the front end 5.7% (installed in RTR), option 1 provides a one-to-one drive ratio front-to-rear (available separately), and option 2 overdrives the front end 11.83% (included with RTR).

Feeding the power to the tires are 3-piece telescopic driveshafts with an extruded aluminum center section, universal front drive axles, and hardened steel ring and pinion gears. With the Enduro drivetrain, delivering useful power will not be an issue.

We relocated the steering link assembly from the conventional location to behind the axle (BTA). This feature greatly improves approach angle and front-end clearance, making rough terrain much easier to handle.

The Enduro Trail Truck with Knightwalker body comes ready for adventure right out of the box, with performance-driven Reedy Power electronics. The ultra-smooth, and powerful 16-turn, 5-slot Reedy brushed crawler motor and Reedy Power metal-gear, water-resistant servo supply ample power to this tough rig. Controlling the beast on the trail is our Flysky 2-in-1 radio and ESC combination.

With all this packed in one box, we know the Enduro Trail Truck is ready for the trail -- are you?

Chassis Features
BTA STEERING and ALUMINUM STEERING PLATES: Behind-the-axle steering provides better approach angles, more clearance, and a cleaner look. Bolt-on aluminum steering plates allow for more adjustment, strength, and future modification for the user.

INTEGRATED SERVO WINCH MOUNT: Mounting a winch directly to the chassis is the strongest and most reliable spot on any trail rig. Positioned alongside the steering servo for overall chassis balance and weight distribution.

THREADED ALUMINUM SHOCK BODIES: Threaded aluminum and fluid-filled, these shocks keep the vehicle stable on the trail and retain oil even in the roughest terrain.

REEDY POWER CRAWLER MOTOR: The Reedy Power 5-slot 16-turn brushed crawler motor provides ample torque with a smooth power delivery. This allows for slow precise acceleration while maintaining consistent power over rough terrain and obstacles.

ELECTRONIC SPEED CONTROLLER (ESC): The Knightwalker RTR comes equipped with a FLYSKY 2-in-1 brushed speed control and receiver unit with built-in LED lighting controller.

RADIO and SERVO: The Flysky FS-G4P, 2.4GHz, 4-channel radio and receiver with ANT protocol together with a Reedy Power 1523MG metal gear, water-resistant servo is the perfect setup for keeping the Enduro under control on the trail.

Body Features
KEEPING IT REAL. The Knightwalker 4X4 RTR features an injection-molded grill, mirrors, door handles, roll cage, light bar, as well as front and rear headlight buckets to heighten the scale realism of the thermoformed polycarbonate body designed by James Knight of Knight Customs. The extra decal sheet includes additional overlanding graphics and sponsor logos to outfit the Knightwalker 4X4 for a custom look.

Element RC has partnered with industry leading aftermarket manufacturers to provide the highest level of scale realism possible. These partners include: DeMello Off-road, KC HiLiTESR, MagnaflowR, and General TireR.

OFFICIALLY LICENSED WHEELS AND TIRES: Gripping the trail is a set of officially licensed General GrabberTM A/T X tires molded in a high-performance, soft compound rubber. The General GrabberTM A/T X tires are mounted on Method 701 Trail Series beadlock wheels. No more worrying if your RTR tires will come unglued.

Out of the box, the Trail Truck is ready to tackle the elements -- your journey begins here!

Knightwalker 4X4 Body Features

Thermoformed high-strength polycarbonate body
Two-piece cab and bed design with flared fenders
Clear windows, headlights, and taillights
Dropped bed design with roll cage and spare tire
Injection-molded body accessories
Highly detailed Injection-molded headlight and taillight buckets
Officially licensed DeMello injection-molded front and rear bumpers
Officially licensed KC HiLiTES

R

 

light bar
Officially licensed 1.9" x 4.19" General GrabberTM

 

A/T X tires
Officially licensed MethodTM

 

701 Trail Series wheels
Decal sheet with additional graphics and logos included
Printed on the inside of this box is a garage diorama. Simply follow the directions printed on the inside flap and display your trail truck proudly.

The #40121C LiPo Combo includes a Reedy Compact Balance Charger and Reedy 7.4V 2S LiPo Battery with T-plug.

Additional Features

BTA (behind the axle) steering
Aluminum steering plates
Integrated servo winch mount
Threaded aluminum shock bodies
Stealth X gearbox with adjustable overdrive gears
CMS (Chassis Mounted Servo)
Adjustable front track bar
Universal front drive axles
Stamped steel frame rails
Enclosed receiver box
12mm wheel hexes
Adjustable front and rear bumper mounts
Adjustable width rock sliders
Two battery boxes
Aluminum motor plate
Adjustable body posts
Optimized ball cups for more fluid axle articulation
Adjustable rear shock tower mount positions
Telescopic driveshafts front and rear
Extruded aluminum driveshaft splines
One-piece rear axle design
Splined front axle with adjustable caster
Machined input pinion gear

This vehicle needs extra parts to make it operational. Click on the Specifications link to see what extra equipment you'll need to make the vehicle operational, such as batteries and charger.