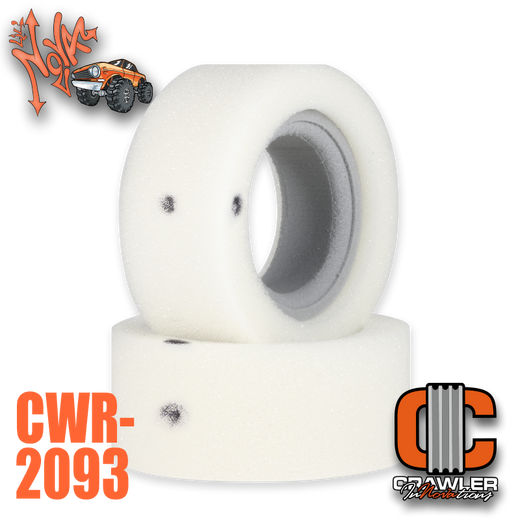 Crawler Innovations Lil Nova 4.0 1.9" Class 1 Crawler Foam (2) (Standard/Firm)
Crawler Innovations was the first to combine closed cell and open cell foam into one package. The Lil' Nova Foams have been around since the beginning and are made from the best compounds available. The Lil' Nova Dual Stage Foam design is for all high-performance applications where grip and traction are essential. Available in a variety of compounds and sizes, the Lil' Nova Crawler Foams are the perfect addition for your new tires.
Sold as a pair. 
These inserts feature a Standard Cut, closed cell inner foam, with a Firm conventional or open cell density outer foam. The closed cell inner foam is super dense, water proof, is not temperature sensitive and is extremely durable. The conventional outer foam is not temperature sensitive, but it is not water proof.
The "Standard" inner is flat between the area where the outer and inner meet. This is the original design inner and it offers the most support.
The 4.0" Lil Nova is designed for SORCCA competition using Class 1 tires, ranging in height from 4.19" and smaller. This foam was designed to not over stuff the class 1 tires the way the 4.25" Lil Nova does. If you have a heavy rc vehicle and need more inner in your class 1 tire, the 4.25" Lil Nova is better suited for that. The 4.0" Lil Nova was designed for 6 pound and lighter weight rc vehicles, focused on scale rc crawling performance. 
Approximate size: 4.0" Height x 1.75" Width
#cicellblock #lilnovafoams #crawlerinnovations #activatedoutlaw #ayalametalworks