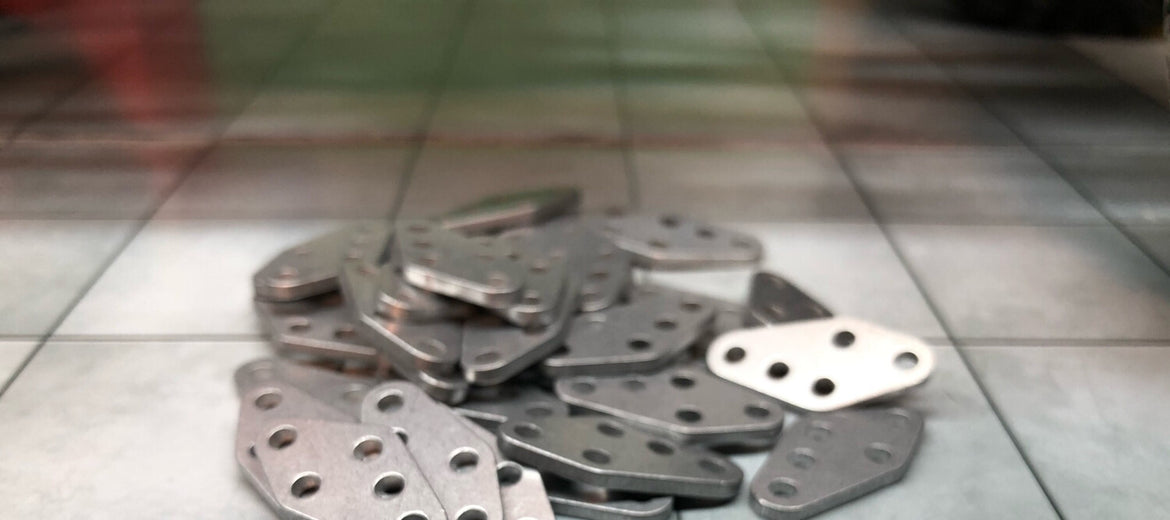 STH Super Shafty ChupaCapra Shock Tab (Pair)
What you get:
2 x 6061 Aluminum Shock tabs (2mm thick)

4 x M3 x 8mm BHS (Fix To Cage in original mount position)

You will need:
m3 x 16/18mm with M3 lock nut and 1mm - 4mm spacer depending on the shock, ball stud or position you use.

The shock tabs can be mounted either up or down to adjust both ride height and shock lean. (Images shown with Capra Shocks with offset ball stud on shock)

Hole Clearance is "tight" to prevent the bracket from shucking. You may need to gently push a screw through the tab before mounting.
NOTE: If mounted in the up position, you may need a 1mm - 4mm spacer under the ball stud to allow the shock cap or shock body to clear the screw heads on some shocks.
---
IMPORTANT: Do not use power drivers on 3D printed parts. Over tightening printed parts and cause premature cracking and crushing. Always ensure you hardware will not bottom out in the screw pocket. This can also cause at 3D printed part to break prematurely.
Printed Parts - These parts will be printed using advances slicing methods for maximum strength. All 3D printed parts come with a lifetime replacement guarantee. If you break a part, simply send us a photo and your order number. The photo is simply to evaluate for common issues and help identify potential improvements to existing designs.