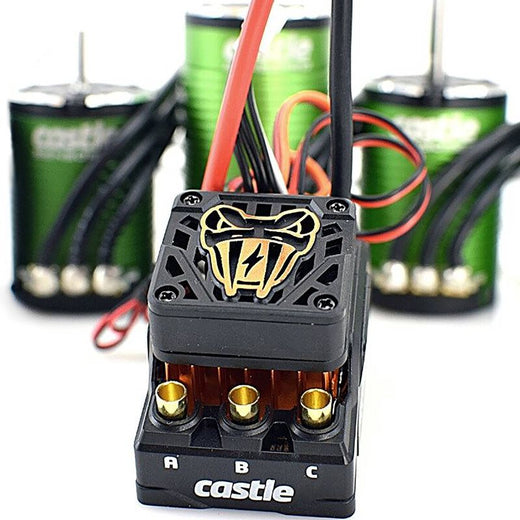 CASTLE CREATIONS COPPERHEAD 10 Brushless ESC / 1412-3200Kv 5mm Sensored Motor Combo
COPPERHEAD 10 Features
Input Voltage Range for 1412-3200Kv 5mm Combo : 2s-4s LiPo
SMARTSENSE™, SENSORED ONLY and BRUSHED Running Modes
Selectable 5.5V or 7.5V (6A peak) internal BEC (Battery Eliminator Circuit)
CRYO-DRIVE™ Technology minimizes the amount of time the ESC's electrical components spend generating heat, resulting in improved thermal performance during partial throttle operation where the majority of driving occurs.
ESC is housed in a durable injection molded case and potted in WATERPROOF epoxy to protect the electronics and promote efficient heat transfer.
30mm removable fan and DUAL USE FAN GUARD
Compatible with S.BUS2 Telemetry Link and Futaba T4PX, T7PX and T7PXR transmitters
AUDIBLE ALERTS for easy diagnosis of common issues such as motor-over-temperature and low-voltage cutoff.
Convenient TRANSMITTER PROGRAMMING for six common adjustable settings inlcuding cutoff voltage and drag brake.
DATA LOGGING LITE* captures and records performance data from your vehicle to maximize performance and battery life. (Battery Voltage Battery Ripple, Controller temp, Motor RPM, Motor Temp)
SMARTSENSE™ uses the motor's sensors at startup to provide cog-free starts, excellent torque and low-speed drivability. Once the motor is turning, the ESC seamlessly transitions to Castle's ultra-efficient sensorless mode.
CASTLE LINK USB programming kit (coupon included with purchase)
Optional smartphone-based programming with the B-LINK™ BLUETOOTH ADAPTER (sold separately) and Castle Link App available on Google Play or Apple App Store
PROUDLY DESIGNED, ASSEMBLED AND SUPPORTED IN KANSAS, USA.
Backed by Castle Creations' 1-YEAR WARRANTY
*Data Logging capabilities require the use of Castle Link Programming Suite using a Windows™ PC and freely downloadable software.