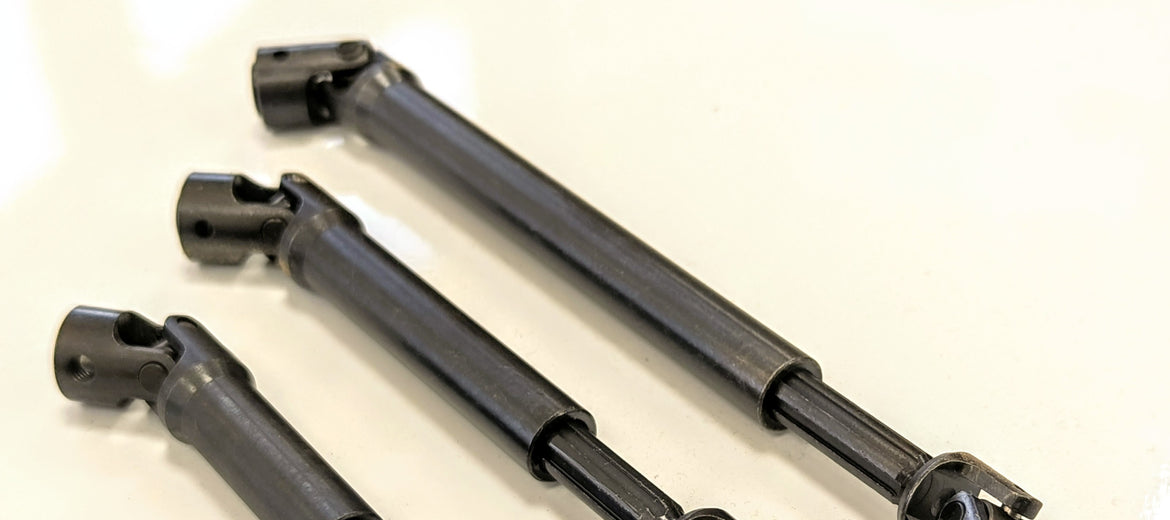 Budget Steel Driveshafts - *Order By Measurement*
Budget Friendly Steel Driveshafts
Order By Measurement
PRODUCT DESCRIPTION:
These are the Budget Friendly Steel Driveshafts
30° of articulation
5mm Output size
M4 Set screws (uses a 2mm Driver) 
NO WARRANTY ON THESE SHAFTS (Sorry, If you need a warranty, checkout our S4 Driveshafts)
This listing INCLUDES 1 full driveshaft. For most trucks you will need 2.
ORDERING NOTES:

Lengths are measured from MOUNTING PIN HOLE to MOUNTING PIN HOLE
TRAVEL LENGTHS LISTED ARE FULLY COMPRESSED TO FULL USABLE EXTENSION. You COULD extend it further, but you might risk engagement issues or the shaft coming apart.
 ADDITIONAL NOTES:
These are not made by SuperShafty or Key City Hobby.
They are Non-Branded
Made in China