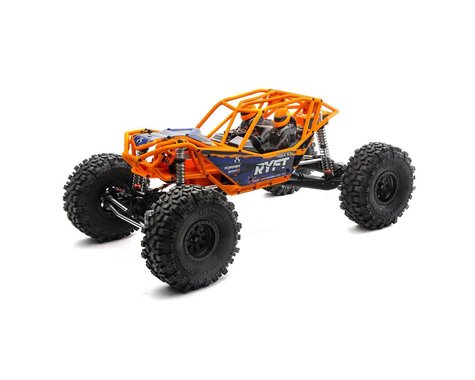 The Axial RBX10 Ryft 4WD 1/10 RTR Brushless Rock Bouncer features a custom high-strength composite plastic tube chassis engineered to withstand the hard knocks of RC rock bouncing. A strong 4S-capable high speed powertrain  features a 2200Kv brushless motor, paired with a Spektrum Firma 130A ESC. Licensed Interco TSL Bogger tires on Raceline wheels, and long travel front/rear shocks are connected to molded plastic front and rear solid axles with metal differential covers. All the parts blend together to help tame wild terrain. These features, along with a full-time 4WD transmission, make the RBX10 Ryft a fun vehicle to send at full throttle.
Exclusive Spektrum technologies, such as Smart telemetry and AVC traction control, help even new RC drivers enjoy unstoppable performance from the RBX10 Ryft. A Spektrum DX3 radio uses DSMR technology for superior range, response, and interference resistance. The radio is also fully compatible with the Smart telemetry potential of the vehicle's Spektrum Firma 130A Smart ESC. When using a Spektrum Smart LiPo battery, you'll stay aware of on-board battery capacity with only a glance at the transmitter's handy voltage level indicator. When the voltage gets low, an alarm will sound.
The DX3 radio and SR6100AT receiver also support the on-demand traction control of Spektrum AVC (Active Vehicle Control) technology — included here for the first time in an Axial RTR vehicle. With an AVC system, you can dial in extra stability as needed when climbing hills or launching ledges without backing off the power. You have full-throttle freedom over rough terrain, slick surfaces and loose dirt!
The Axial RBX10 Ryft 4WD is ideal for beginner to intermediate RC enthusiasts who are interested in the rock bouncing style of off-road driving over trails, dirt, gravel, rocks and more. It's available with a striking orange or black factory-applied finish and requires nothing except a battery and charger.
Features:
Solid axles front and rear with universal axle joints
Robust tube chassis design
Strong powertrain with 4S-capable brushless motor
Full-time 4WD transmission
Licensed Raceline wheels and Interco TSL (Three Stage Lug) Bogger tires
Long travel front and rear shocks
Waterproof 15kg servo
Specifications:
Approximate Assembly Time:

 
No assembly required
Body:

 
Screen printed with applied decals
Brakes:

 
Integral with ESC
Chassis:

 
Injection molded plastic
Completion Level:

 
Ready-To-Run
Drive Type

:

 
Forward/Brake/Reverse
Front Track:

 
12.75" (323.8mm)
Ground Clearance:

 
3.25" (82.5mm)
Motor Type:

 
Brushless - Sensorless
Product Height:

 
8.75" (222 mm)
Product Length:

 
21.5" (546 mm)
Product Weight:

 
7.26lbs (3.29kg)
Product Width:

 
12.75" (324 mm)
Rear Track:

 
12.75" (323.8mm)
Shock Type:

 
Oil-filled, Front 5.11 in (130mm), Rear 5.70 in (145mm)
Suspension:
Solid axle 4-link
Tire Tread:

 
Interco TSL Bogger
Wheelbase:

 
15.25" (387.35mm)
Wheel Type:

 
Raceline Monster
Wheel Width:

 
1.6 in (40.64mm)
Includes:
(1) Axial® RBX10™ Ryft™ 1/10 4WD RTR
(1) Spektrum™ DX3™ 3-Channel 2.4GHz DSMR® Radio Transmitter
(1) Spektrum™ SR6100AT 6-Channel DSMR® AVC/Telemetry Receiver
(1) Spektrum™ Firma™ 130A Smart ESC
(1) 2200Kv Brushless Motor
(1) Product Manual
Needed to Complete:
2S - 3S LiPo Battery with IC5/EC5 Connector
Compatible Charger