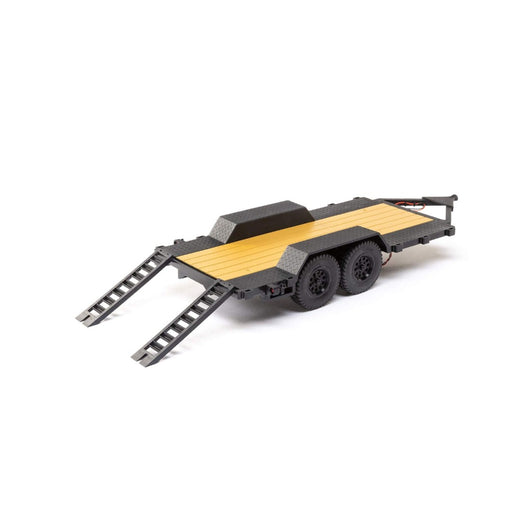 AXIAL 1/24 SCX24 FLAT BED VEHICLE TRAILER
FEATURES
Flat bed design
Fully assembled and ready to use
Able to transport any SCX24, AX24, or similarly sized vehicle
Realistic LED running lights
Numerous display-worthy details
Many functional components
Durable composite construction
Includes hitch and hide-away ramps
Designed specifically to work with Axial SCX24 rigs
OVERVIEW
Axial is all about creating memorable adventures. Take your next expedition to a new level of fun and excitement with the SCX24 Flat Bed Vehicle Trailer. Imagine hitching this trailer up behind your SCX24 rig, loading your AX24 or similarly sized crawler, and towing it to the trail head. The scale action gets started even before you pick out a line to crawl!
The SCX24 Trailer has been purpose-built for 1/24 scale RC use and is designed specifically to work with any Axial SCX24 rig. It's the real deal, outfitted with an impressive array of fully functional features. Its four 1.75" tall rubber tires are mounted on 1" wheels that have the same hex size as your SCX24. With the included hitch, it's easy to put your SCX24 to work. A pair of storable, hide-away ramps are provided for loading and unloading vehicles.
The SCX24 Trailer makes an eye-catching display piece when you're not using it to tow your rigs. The dual axle trailer is made of injection-molded black composite with a diamond plate and wood textured finish. There are simulated "painted wood" panels down the center of the trailer. Prewired red LED running lights continue the realism onto the trail, indoors or outdoors, day or night, adding the authentic looks that RC crawling enthusiasts expect from Axial.
Inexpensive, fully assembled, and ready to use, the Axial SCX24 Flat Bed Vehicle Trailer is more than an exciting scale accessory for your 1/24 scale rig. When transporting your crawler while hitched behind your SCX24, it's an adventure on the move.
FLAT BED DESIGN
Large enough to transport any SCX24, AX24, or similarly sized vehicle, the SCX24 Flat Bed Vehicle Trailer is made of sturdy, black-colored composite material with a diamond plate and wood textured finish. Simulated "painted wood" panels down the center add to the trailer's realistic looks. Ten tie-down locations are provided for securing your rig (tie-downs not included).
RUNNING LIGHTS
The SCX24 Trailer has many scale details and working components, including factory-installed, red LED running lights that come prewired and can be plugged into your auxiliary location for power. Running lights add realism on display and on the trails.
HITCH INCLUDED
Specifically designed to work with Axial SCX24 rigs, the SCX24 Trailer arrives ready to use right out of the box. It comes with a universal, adjustable, frame-mounted hitch that can be used with all SCX24 vehicles. Hardware is included for hitch assembly.
HIDE-AWAY RAMPS
It's easy and fun to load and unload your rig by maneuvering it onto the SCX24 Trailer's supplied ramps. The ramps are storable underneath the trailer when not in use, just like a real trailer.