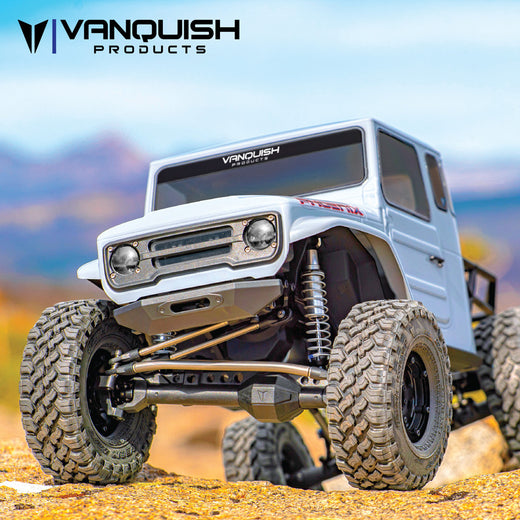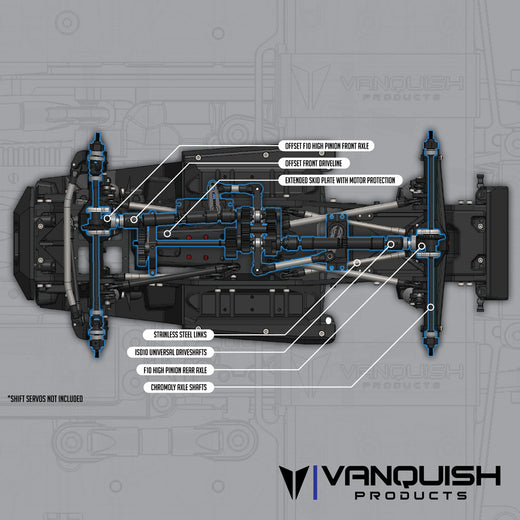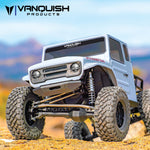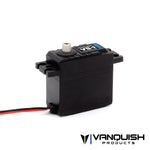 VANQUISH VS4-10 PHOENIX RTR - GREY
VS4-10 PHOENIX RTR

The VS4-10 Phoenix RTR is the first RTR platform from Vanquish Products. Features the VFD Twin transmission and F10 Straight Axles. Included is a full function digital 4 Channel VT-1 Transmitter with multiple model memory and end point adjustment, making the VS4-10 Phoenix RTR ready to be equipped for fully functioning Dig and Selectable OD. Or run it out of the box with 6% OD powered by a 35T VM-1 Motor and VE-1 3S capable ESC. The large diameter Stainless Steel links bring high end Vanquish Products kit quality to the RTR market. The drivetrain is equiped with machined ring and pinion gears, chromoly universal axle shafts, and chromoly 6-bolt spools for the ultimate in durability. Full ball bearings, metal transmission gears and 32P spur / pinion provide smooth and reliable performance when tackling the toughest terrain.

The VS4-10 Phoenix RTR is equipped with features never before offered in a scale RTR of its kind. The VFD Twin incorporates Selectable Overdrive Shifting and 3-position dig ready (servos not included*) into one compact package. The molded F10 Straight Axles utilize a high clearance design which minimizes the size of the pumpkin and maximizes clearance around the C-hub and knuckle. Connecting the VFD Twin to the F10 Axles are the ISD10 driveshafts. The ISD10 Driveshafts have machined CV style joints at each end with molded splined shafts between them for smooth, quiet and efficient performance. The large 8mm bore S8E shocks included dual X-Ring cartridge and scale threaded caps with a sealed upper bleeder screw. S8E preload adjustment is a breeze with the threaded shock bodies and collars.

VFD Twin Transmission - Selectable Overdrive and Dig Ready
F10 Straight Axles
Offset Pumpkin Front Axle
Centered Pumpkin Rear Axle
Machined Ring and Pinion gears with Chromoly 6-bolt spools
Universal-style front axle shafts
HD Stainless Steel Links
25T 20MM Metal Servo Horn
Machined Aluminum Panhard Mount
Double Shear Shock Mounts
Aluminum machined 12mm Hexes
ISD10 Driveshafts
S8E Shocks with Bleeder cap and clamping spring cup retainers
Hidden body clip system

FEATURES
VT-1 Digital 4 Channel Transmitter provides industry leading features and tuning capabilities in an RTR. 15 model memory, multi-channel end point and rate adjustment, digital screen and multi-position switches for the 3rd and 4th channel. Your VFD Twin equipped VS4-10 Phoenix RTR is ready for your additional servos to utilize dig and selectable overdrive using the VT-1 Transmitter.

VE-1 ESC is 3S LiPo capable and includes a strong BEC to power servo functions. The built-in jumpers can be moved to adjust LiPo cut-off and drag brake strength. Factory tuned for your VS4-10 Phoenix RTR. The VE-1 ESC is our version of the Hobbywing 1060, one of the most trusted RTR ESC's on the market.

VM-1 35T Brushed motor is a closed endbell design tuned for the VS4-10 Phoenix RTR to provide trail torque with plenty of speed to conquer the roughest terrain with confidence.

VS-1 Metal Gear Servo tackles the steering duty on the VS4-10 Phoenix with 200oz-in of torque. Ready for all elements the VS-1 Servo is water resistant and durable with its metal gears and 25T output spline for industry standard servo horns. ­

VS4-10 Chassis is made to provide you with a balance of scale looks and unhindered performance. The steel C-channel design provides scale detail, molded front and rear cross members fill the chassis rails in the highest stress locations for ultimate strength and provide features like dual servo mounts, winch line routing, and a fuel cell. The molded rock sliders come with a replaceable tapered outer portion that perfectly fits the Phoenix body. The VS4-10 chassis is developed to work with the VFD Twin transmission to keep the overdrive and dig servo low on the platform. The panhard mount on the chassis is made from machined aluminum to withstand the impacts of severe trail conditions. Molded shock towers capture the top of the 90mm Incision S8E Shocks in double shear for maximum support. Narrow molded front and rear bumpers maximize clearances while improving approach and departure angles.


Heavy Duty High Clearance Steel C-Channel Frame Rails
Molded Front Inner Fenders with integrated LED mounts
Phoenix Molded Rock sliders
Phoenix High Clearance Bumpers
Integrated battery tray and electronic mounting positions
VFD Twin Overdrive and Dig servo mounts
Stainless Steel links
Molded inner fenders with front body hinge and scale radiator mount
VFD Twin Transmission is an evolution of the original VFD. Taking the same balance of performance, scale appearance, strength, and adding industry first features. The VFD Twin comes equipped with selectable overdrive and rear dig. Twin shifting transfer case utilizes replaceable bearing plates, a brass pivot for the shift arms, and chromoly shift slides. Borrowing from our proven Hurtz dig, the VFD twin shifting is smooth and reliable. On the fly overdrive shifting from 6.5% to 46% makes an immediate change to the driving characteristics and tuning options. The VFD Twin transmission places the motor forward and as low as possible. Compatible with 540 brushed and brushless motors*


On the fly Selectable Overdrive
Standard Overdrive 6.5%
Selectable High Overdrive 46%
Use Overdrive neutral position for 2WD (disengage front output)
Dig with 3 Positions
Slipper Clutch
Sintered Internal Gears
Hardened Chromoly Shafts
Molded VFD Twin Extended Skid Plate for Motor Protection
Molded Battery and Electronic trays
Full ball bearing transmission
Sintered Shift arms with Brass pivot shift bushing
Chromoly slide dogs for Overdrive and Dig shifting
Scale Molded Transmission Housing
Machined Aluminum Bearing Plates
Molded 6mm motor plate
Molded Spur Gear Cover
32P 52T Spur and 15T Steel Pinion
Silicone dust shields for shift arms***
F10 Straight Axles benefit from Vanquish Product's years of design experience in making the industry's best aluminum axles. The molded plastic F10 Straight axles feature an ultra rigid design with an integrated truss that ties both ends of the axle together, and oversized C's with an integrated panhard mount.


Molded Plastic Axle housings
Universal Style Axle Shafts
49 Degrees of Steering
High Caster reinforced C-Hub
High-Pinion Hypoid Machined Axle Gears (30/8)
6-Bolt Ring Gear and Spool
5mm Output shafts with M4 wheel nut
One-Piece Molded Bearing Retainers
Adjustable Lower Shock Mounting Position
Scale removable third member
Machined aluminum red anodized rear fill cap with molded install tool

Phoenix Body with VRD1 Cage

VRD1 Rear Cage
3-Piece Body Design
Headlight and Tail Light buckets
Molded Grill
Hinged Design
Hidden body clips with quick release front pivot pin
Wheels and Tires


1.9 Falken Wildpeak M/T - RED Compound Tires
1.9 Incision KMC KM233 Hex Beadlock Wheels


VS4-10 PHOENIX RTR SPECIFICATIONS

1/10th Scale
Falken Wildpeak RED Compound 4.65"x 1.9" tires
3.75:1 Axle Gear Ratio
13T/56T Pinion/Spur
Overall Width: 242mm (9.53")
Overall height: 242mm (9.53")
Wheelbase: 313mm (12.3")
Overall Front Ratio (Standard 6.5% OD): 47.6:1
Overall Front Ratio (Optional High 46% OD): 31.8:1
Overall Rear Ratio: 50.8:1
RTR weight (without battery): 5.9lbs (2.7kg)
Front and Rear axle width pin to pin: 182mm (7.17")


REQUIRES

2-3S LiPo Battery or 6 cell NiMh (XT60 Plug)
Compatible battery charger for selected battery (XT60 Plug)
*ADDITIONAL ELECTRONICS FOR OPTIONAL VFD TWIN FUNCTIONALITY*

X2 Standard size servos for Dig and Selectable Overdrive (Standard or Low Profile)
X2 24mm servo horns
*** Transmission dust shield is not 100% element proof. Use access cover to regularly check transmission for debris and add grease as needed.