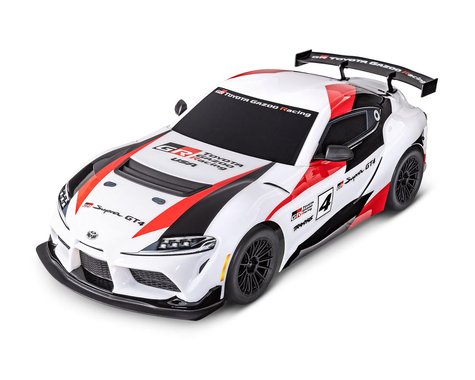 Traxxas 4-Tec 3.0 1/10 RTR Touring Car w/Toyota GR Supra GT4 Body (White) & TQ 2.4GHz Radio System
Features:
4-TEC 3.0 PERFORMANCE:

 

Traxxas modified the already capable 4-Tec platform for maximum performance with a longer wheelbase and wider track developed specifically for the Supra 4-Tec 3.0. The longer, wider footprint improves stability and refines handling to deliver the steering precision and balanced feel of a GT4 race car.
RACE-BRED STYLING:

 

Toyota's 60+ years of racing experience transformed the Supra platform into a track-dominating GT4 race car. Traxxas faithfully captures the essence of the GR Supra GT4's racing pedigree down to the smallest detail. Replica aero trim, molded scale parts, and wide racing slicks provide an RC racing experience like no other.
CLIPLESS BODY MOUNTING:

 

Traxxas' exclusive clipless body mounting system maintains the uninterrupted clean lines and functional aero of the Supra's exotic shape. The uniquely engineered clipless frame with its integrated quick release latch system secures the body invisibly. The hidden mechanism delivers a firm and incredibly rugged hold and releases in seconds to provide chassis access.
INNOVATION:

 

Capturing the excitement of the full-size GR Supra GT4 in exacting detail, with performance to match.
DETAILS:

 

Look beneath the GR Supra GT4's race-inspired lines to reveal the individual design details that make the 4-Tec 3.0 chassis as easy to operate as it is exciting to drive.
Specifications:
Length:

 
19.3 inches (490mm)
Front Track:

 
8.0 inches (204mm)
Rear Track: 8.0 inches (204mm)
Total Width (mirrors):

 
8.6 inches (219mm)
Ground Clearance:

 
0.5 inches (14mm)
Weight:

 
3.92lbs (1.78kg) with body (no battery)
Height (

ride):

 
5.6 inches (141mm)
Wheelbase:

 
10.7 inches (272mm)
Tire Diameter:

 
2.8 inches (73mm)
Tire Width (front

):

 
1.3 inches (33mm)
Tire Width (rear):

 
1.3 
inches (32mm)
Wheel Diameter:
2.0 inches (51mm)
Overall Drive Ratio:

 
11.38
Battery Tray:

 
174mm long / 48mm wide / 23mm or 26mm high
Skill Level:

 
1
Includes:

Fully-assembled, Ready-To-Race® 4-Tec 3.0
TQ™ 2.4GHz Radio System
XL-5® Electronic Speed Control
Titan® 12T 550 motor
GR Supra ProGraphix® painted replica body
Needed To Complete:
7.4V 2S LiPo or 7.2V 6-Cell NiMH or 8.4V 7-Cell NiMH Battery Pack w/TRX or iD Connector

Compatible Battery Charger

(4) "AA" Batteries for Transmitter