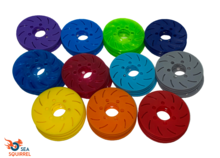 Sea Squirrel SLW Scale Rotors - 2.2" Directional
SLW Scale Rotors - 2.2" Directional
Scale Directional Rotors snap over the SLW style hubs and can be installed on MOST 2.2" SLW wheels. 
Fits: VP, Lockedup RC, Injora (China), SuperShafty Hubs. Does not fit SSD Hubs. May fit other hubs but not tested.
Adds approximately 1mm to your track width. Use existing hardware to mount.
Includes: 2 left & 2 right rotors of the same color. (single rotors available upon request)