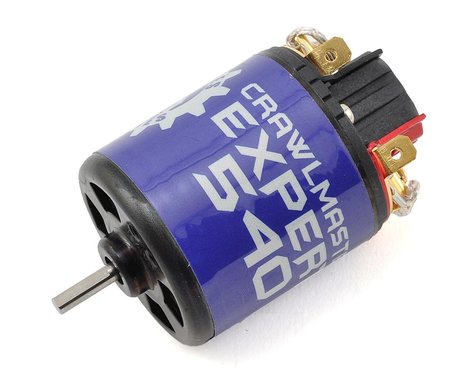 Holmes Hobbies Crawlmaster Expert 540 13T
The Crawlmaster Sport is the SMOOTHEST budget motor built for messy, dirty, off road action. Whether on the rocks or in the dirt, the Crawlmaster Sport is perfectly at home. Great choice for young drivers, running in the muck without ruining an expensive motor, or just crawling on a budget.
FEATURES:
5 slot rotor for industry leading smoothness
Zero timing, universal installation and rotation direction
1/8th inch shaft diameter
36mm OD x 52mm length (not including shaft)
178g weight
m3 mount holes, 25mm spacing, "540" standard
ball bearing on output
bronze bushing on end bell
High strength magnets
Equivalent KV:
Crawlmaster Sport 540 13t - 1850kv
Crawlmaster Sport 540 16t - 1500kv
Crawlmaster Sport 540 20t - 1250kv

Crawlmaster Sport 550 12t - 1700kv
Crawlmaster Sport 550 15t - 1250kv 
Our sealed can motors should be broken in dry. More information about dry break in can be found on 
our blog
.
Every brushed motor carries a 30 day warranty to cover manufacturing defects. Damage caused by improper gearing is not covered under warranty.