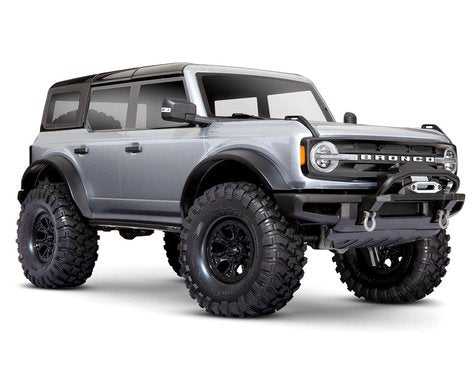 Traxxas TRX-4 1/10 Trail Crawler Truck w/2021 Ford Bronco Body (Iconic Silver) & TQi 2.4GHz Radio
Features:
Clip-less Body Mounting System:

 

The Bronco introduces a higher level of realism and convenience to the TRX4. Traditional posts and body clips are gone, and instead an integrated quick release system secures the body invisibly. The hidden mechanism holds tight on the trail yet releases in just seconds to access the chassis.
Stunning Scale Details:

 

Injection molded door handles, mirrors and fender flares, plus a functional spare tire deliver incredible realism. Unique "Trail Sights" extend to the LED ready grille, while rugged replica bumpers feature a fairlead, tow hooks and receiver hitch.
TRX-4 Capability:

 

The features that make TRX-4 an award winning favorite are all built into the Bronco. That includes high clearance portal axles, remote operated T-Lock differentials, high/low 2 speed transmission, aluminum GTS shocks, steel ladder frame - and more!
The Power of Portals:

 

Portal axles lift the truck at the wheels for improved center pumpkin ground clearance. In order to achieve the same clearance with straight axles, your tires would have to be over an inch taller that the tires on the TRX-4 Bronco.
Torque Twist Eliminated:

 

The portal axles use gear reduction at the wheels to virtually eliminate torque twist. The Titan 550 motor's torque translates into straight, powerful, forward motion, rather than wasted energy twisting your rig right off the rocks.
GTS Aluminum Shocks:

 

Oil filled coil over GTS shocks deliver silky smooth damping performance and feature threaded aluminum shock bodies for easy ride height adjustments. The convincing scale realism looks great and they perform even better.
3S Power System:

 

The XL-5 HV speed control brings 3S LiPo capability for strong efficient running. The powerful 21T Titan motor provides torque to tackle the steepest climbs and all out speed on flat terrain. This efficient system provides up to 2 hours of run time with a Traxxas 3S 5000mAh iD LiPo Battery Pack!
TQi Radio System:

 

Operate the 2-speed transmission and T-Lock diffs with a touch, and activate cruise control to hold the throttle for long haul comfort. Its all built into the TQi. You can even customize settings via a smartphone with the TRA6511 wireless module.
Waterproof Electronics:

 

The TRX-4 shrugs off mud, snow and streams with waterproof electronics. The ESC and servos are waterproof, and the receiver is fully protected by a watertight enclosure. TRX-4 delivers all season, all weather adventure.
Specifications:Length (overall):

 
22.98 inches (584mm)
Length (chassis):

 
21.59 inches (549mm)
Front Track:

 
9.78 inches (249mm)
Rear Track:

 
9.78 inches (249mm)
Ground Clearance:

 
3.14 inches (80mm)
Weight:

 
6.42lb (2.91kg)
Height:

 
9.4 inches (239mm)
Wheelbase:

 
12.8 inches (324mm)
Front Shock Length:

 
3.54 inches (90mm)
Rear Shock Length:

 
3.54 inches (90mm)
Front Wheels:

 
1.9 x 1.02 inches (49 x 26mm)
Rear Wheels:

 
1.9 x 1.02 inches (49 x 26mm)
Front Tires:

 
4.64 x 1.89 inches (118 x 48mm)
Rear Tires:

 
4.64 x 1.89 inches (118 x 48mm)
Approach Angle:

 
52°
Departure Angle:

 
49°
Breakover Angle:

 
58°
Hex Size:
 12mm
Speed Control:

 
XL-5 HV
Motor (electric):

 
21T 
Reverse Rotation
Transmission:

 
2-speed Hi-Lo, Remote Shifting
Gear Pitch:

 
32P
Differential Type:

 
4 Gear, Remote Locking
Chassis Structure / Material:

 
Steel Ladder Frame with Nylon Composite Cross members
Brake Type:

 
Electronic "Hill Hold"
Drive System:

 
Shaft Driven 4WD
Steering:

 
Chassis Mounted Servo
Servo:

 
2075X Metal Gear
Transmitter:

 
TQi™ 2.4 GHz 4-Channel Transmitter
Receiver:

 
6533
Skill Level:

 
1
Battery Tray:

 
158.75 L x 47 W x 23/26mm H

Needed To Complete:
(4) "AA" Batteries (for transmitter)
(1) NiMH Battery (4-7 cell) or LiPo Battery (2S/3S)
(1) Compatible Battery Charger